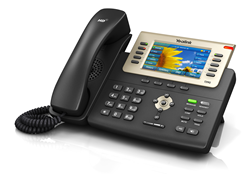 A combination of advanced hardware and software produces wideband audio as realistic as having a face-to-face conversation.
Milwaukee, WI (PRWEB) January 29, 2015
Announcing the brand new Yealink SIP-T29G phone, now available at IP Phone Warehouse. This VoIP phone is the most state-of-the-art member of Yealink's popular SIP-T2 series, featuring a wide range of productivity-driven features.
A total of 27 line keys are built into this SIP phone via paperless labels and page keys. Red and green LEDs allow the keys to function as busy lamp fields, status indicators and other programmable functions.
Additional features onboard the Yealink SIP-T29G phone:

Dual gigabit-Ethernet ports
Power over Ethernet
4.3-inch color display
Optima HD voice technology
USB port for Bluetooth dongles
Available expansion modules
Easily interact with the Yealink SIP-T29G phone through the display, programmable line keys and fixed function keys. For wireless telephony, a USB dongle can be plugged into the VoIP phone so it can interconnect with a Bluetooth headset. The wired headset port on the phone is compatible with an electronic hook switch adapter for advanced call management.
Yealink Optima HD voice technology noticeably improves call quality. A combination of advanced hardware and software produces wideband audio as realistic as having a face-to-face conversation.
Expand the Yealink SIP-T29G phone with more programmable buttons. Up to six expansion modules can be interfaced with the phone, offering up to 240 additional buttons. Perfect for busy professionals and receptionists that need to manage many lines and extensions at once.
The Yealink SIP-T2 series is a popular line of VoIP phones for businesses seeking affordable, high-quality telephony. See the newest member of the series, the SIP-T29G, here: http://www.ipphone-warehouse.com/Yealink-SIP-T29G-Phone-p/sip-t29g.htm.
Contact IP Phone Warehouse to learn more about VoIP telephony, Yealink and the new Yealink SIP-T29G. Customer support is available by phone at (888) 201-9056 or by email at service(at)ipphone-warehouse(dot)com.
About IP Phone Warehouse
IP Phone Warehouse is the leading specialty reseller of VoIP phones, video conferencing equipment, IP surveillance cameras and network devices. We're stocked with everything that small businesses and enterprises need to deploy reliable VoIP and video solutions. A dedicated customer service team and a wide range of available online resources support every product at IP Phone Warehouse.
About Yealink
Founded in 2001, Yealink is a leading provider of VoIP Phone and IP communication solution. For more than ten years, Yealink has focused on VoIP products characterized by rich performance, reliable equality, easy deployment and competitive price. Yealink benefits customers from flexibility and broad interoperability with the major IP-PBX, softswitch and IMS in the market. Chosen by famous carriers, enterprises and clients from over 140 countries, Yealink provides Carriers, Enterprises, IPCC, SMB and diversified customers from all over the world a best choice to extend the value of network communication.