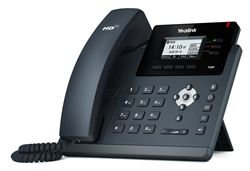 The SIP-T40P makes it easy for any business to enjoy high-end phone functionality.
Milwaukee, WI (PRWEB) August 31, 2015
IP Phone Warehouse is excited to announce the Yealink SIP-T40P. Yealink's newest VoIP phone offers HD audio quality and an incredibly easy-to-use design. The phone perfectly compliments any business' telephony requirements.
Features onboard the Yealink SIP-T40P include three SIP line appearances, programmable dual-LED keys, PoE support and a headset port with EHS support. The phone's audio quality makes it sound as though callers are talking in-person, and the buttons and backlit display are easy to interact with.
All of these essential features are packed into a cost-effective VoIP phone. The SIP-T40P makes it easy for any business to enjoy high-end phone functionality, continuing Yealink's commitment to affordable telephony.
A simple installation process and advanced security protocols make the Yealink SIP-T40P the total package. Ready for secure communications across standards-based phone systems such as 3CX and Asterisk.
The Yealink SIP-T40P is ideal for call centers, cubicles and other mass deployments. The phone's interface is intuitive and customizable for users of all experience levels. Provisions and updates are easy to perform, with software catered to IT administrators.
Learn more about Yealink phones and the SIP-T40P by contacting IP Phone Warehouse by phone: (888) 201-9056 or email: service(at)ipphone-warehouse(dot)com.
About IP Phone Warehouse
IP Phone Warehouse is the leading specialty reseller of VoIP phones, video conferencing equipment, IP cameras and network devices. We're stocked with everything that small businesses and enterprises need to deploy reliable VoIP and video solutions. A dedicated customer service team and a wide range of available online resources support every product at IP Phone Warehouse.