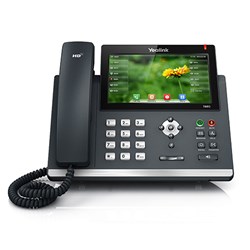 Buffalo, NY (PRWEB) February 14, 2014
VoIP Supply is announcing today the availability of the new Yealink SIP-T48G VoIP Phone.
The most noticeable feature of the Yealink SIP-T48G is the large, 7-inch color touch screen designed for today's modern office environment which allows users to easily switch between screens and applications for quick access to information.
The SIP-T48G holds up to the wear and tear of everyday office use with a scratch resistant surface, metallic texture, and ergonomic keys.
As a tool of the modern office, Yealink's latest IP phone innovation offers speed, quality, functionality, and expandibility with features such as:

HD Voice
Dual-Port Gigabit Ethernet with PoE
6 SIP Accounts with Rapid Call Handling
EHS Support and Wireless Headset Support with the optional Yealink BT40 Bluetooth Dongle
Compatibility with 3CX, Asterisk, and BroadSoft BroadWorks Phone Systems
Expandibility with support for up to 6 Yealink EXP40 Expansion Modules
For more information about the business-minded Yealink SIP-T48G available from VoIP Supply, call 800-398-8647 to speak with a friendly VoIP Engineer or visit http://www.voipsupply.com/yealink-sip-t48g.
About VoIP Supply
We are a place of uncovering, cultivating and developing leaders. A world class place to work with big goals, a clear vision, defined purpose and a dedicated team of passionate business professionals. We love what we do and do it better than any of our competition.
Since 2002, VoIP Supply has been the leading supplier of VoIP equipment and complete VoIP solutions in North America. We are known in the industry as responsive and knowledgeable VoIP product experts.
With everything you need for VoIP, VoIP Supply has grown rapidly throughout the years. VoIP Supply is a three-time Inc. 500/5000 honoree, listed by Business First as one of WNY's Most Admired Companies, as well as one of Western New York's Best Places to Work for many consecutive years, including 2012. VoIP Supply is also the first Certified B Corporation in Western New York.