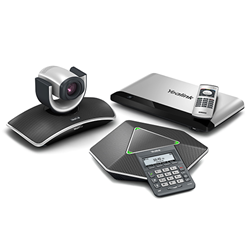 The demo kit includes a free 30-day trial of the system.
Milwaukee, WI (PRWEB) May 27, 2015
IP Phone Warehouse, the leading Yealink video conferencing reseller in the US, is excited to announce the Yealink VCS demo kit. Try out the Yealink VC series video conferencing system for free for a full 30 days.
One barrier that small- to medium-sized businesses encounter when they shop for video conferencing equipment is the price. On-premise systems can be expensive and some end users are hesitant to purchase them.
Now businesses can experience the benefits of the Yealink VCS before purchase. The demo kit includes the Yealink VC400 video conferencing system, purpose-built for the SMB as a high-quality, easy to use and cost effective video collaboration solution.
The VC400 offers an embedded multipoint control unit, supporting multiparty calling across many different compatible platforms. This Yealink video conferencing system is interoperable with third-party solutions including video conferencing endpoints, video phones and mobile devices. High-end features like content sharing, call recording and HD video are built-in and ready to go. All of these features require no licensing whatsoever.
Receive the Yealink VCS demo kit for free from IP Phone Warehouse. A shipping and handling fee, and a returnable deposit are required. After the demo kit is returned and inspected, the deposit is refunded. The demo kit includes a free 30-day trial of the system.
IP Phone Warehouse is the exclusive reseller of demo kits for both end users and resellers. To order the Yealink VCS demo kit, contact IP Phone Warehouse by phone: (888) 201-9056 or email: service(at)ipphone-warehouse(dot)com.
About IP Phone Warehouse
IP Phone Warehouse is the leading specialty reseller of VoIP phones, video conferencing equipment, IP cameras and network devices. We're stocked with everything that small businesses and enterprises need to deploy reliable VoIP and video solutions. A dedicated customer service team and a wide range of available online resources support every product at IP Phone Warehouse.
About Yealink
Yealink's diverse product portfolio includes video conferencing systems, SIP desk phones, DECT phones and conference phones. The solutions have shipped to over 100 countries around the world, establishing Yealink as a leading global provider of unified communications endpoints. Businesses of all sizes can embrace "Easy Collaboration."