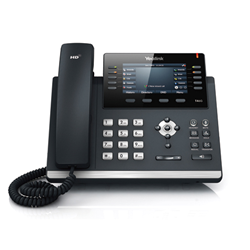 Chicago, Illinois (PRWEB) April 24, 2014
VoIP DW (http://www.voipdw.com) is thrilled to introduce the Yealink SIP-T46G phone. Yealink enhanced every small software and hardware detail on the T46G to increase productivity around all components of the phone. This award-winning VoIP phone is a perfect tool for SIP-based telephony and is available now at VoIP DW.
An elegant design and a revolutionary range of features outfit the Yealink SIP-T46G phone. Equip any desktop with this powerful VoIP phone, ideal for busy executives and professionals. The T46G is both attractive and highly functional.
Yealink SIP-T46G phone includes:

Optima HD Voice through handset or speakerphone
Full duplex audio with echo cancellation
Compatible with EHS headsets and USB dongles
Up to 6 line appearances/SIP accounts
Dual-port gigabit Ethernet switch
4.3" color LCD
10 programmable line keys with 3-page view
Yealink's own Optima HD platform enables lifelike voice communications. Pickup the handset or chat through the speakerphone. Connect a compatible headset with EHS or plug in a compatible USB dongle to integrate your Bluetooth headsets.
Ten programmable line keys outline this Yealink phone's interface. Up to 27 telephony features are supported, with a 3-page view option letting you change your line keys as need be.
Top five Yealink SIP-T46G applications:
1. For power users like administrators and managers
2. Expandable into an attendant console for receptionists
3. Wireless VoIP through compatible USB Bluetooth dongle
4. Wall or desktop mountable with adjustable angles
5. Speakerphone and conferencing
Find out more about the Yealink SIP-T46G phone and SIP phone systems at VoIP DW. Visit our IP-centric website, call us at (877) 202-0357 or email our VoIP specialists at service(at)voipdw(dot)com.
About VoIP DW
VoIP DW features wholesale pricing on all VoIP hardware. Find the lowest prices possible on VoIP phones, VoIP conference phones, ATAs and more VoIP equipment without having to buy in bulk. Easily replace your existing digital or analog phone systems with a new VoIP solution.