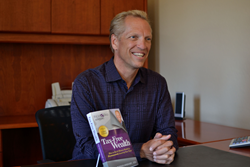 While it may be hard to believe, the government actually wants you to be rich. Take these steps to put more money in your pocket as the year comes to a close. ~ Tom Wheelwright, Author of Tax-Free Wealth
Tempe, Arizona (PRWEB) December 20, 2016
To save money before the end of 2016, Best-Selling Author, Entrepreneur Magazine Contributor and CEO of ProVision Tom Wheelwright provides 5 easy ways to keep more income this year.
Wheelwright emphasizes, "While it may be hard to believe, the government actually wants you to be rich. Take these steps to put more money in your pocket as the year comes to a close."
1. Start a Business on the Side – For anyone who is an employee, consider starting a business on the side. With the Internet, it's easy to set up a home business overnight. Pick your passion, set up a website, and form your LLC or corporation before year-end to maximize your 2016 deductions.
2.Donate Stock versus Cash – To avoid capital gains tax, donate stock that has gone up in value directly to a favorite charity. Wheelwright adds, "This stock versus cash donation approach is a win-win for the non-profit and you."
3. Avoid tax on IRA Withdrawals with Stock Donations – To avoid tax and penalties on an IRA withdrawal, donate the amount directly from an IRA to charity. Instead of taking a distribution, this approach can be a major money saver. It may also free up other deductions as it reduces your adjusted gross income compared to taking the distribution and donating the money personally.
4. Buy new equipment by year-end – Invest in new equipment such as a computer, cell phone or scanner before the end of December to maximize deductions. While it is best to only buy what is needed, deductions may be reduced next year with Trump Tax Reform so buy now versus later.
5. Invest in Financial Education – Instead of buying a flat screen TV this holiday, invest in a financial education program to increase your knowledge and year-end deductions. Wheelwright emphasizes, "Because schools do not teach you how to create a positive cash flow, sign up for a class on real estate or stock market investing to learn how to increase your income."
Media Contact
Liz Kelly, 310-987-7207
Bio
Tom Wheelwright is a leading tax and wealth expert, Best-Selling Author (Tax-Free Wealth), CPA, CEO of ProVision (Tempe, Arizona). Tom is best known for making taxes fun, easy and understandable, and specializes in helping entrepreneurs and investors build wealth through practical and strategic ways that permanently reduce taxes. As a Contributor to Entrepreneur Magazine on Taxes and 1 of 8 Rich Dad Advisors to Robert Kiyosaki (Rich Dad Poor Dad), Tom frequently speaks at conferences worldwide on these topics. Mr. Wheelwright also worked for the National Tax Office for Ernst and Whinney during the last major tax reform in 1986 under President Ronald Reagan. His work has been featured in Forbes, Accounting Today, Consumer Reports, Investor's Business Daily, ABC News Radio, FOX News, GoBankingRates, Consumer Reports, Money Radio 1510 Business for Breakfast, and many more media. http://taxfreewealthadvisor.com