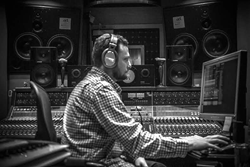 To be successful as an engineer, so you have to work, work, work and never get lazy. The world doesn't owe you anything. You have to push, be smart, and make your achievements happen.
Atlanta, GA (PRWEB) October 16, 2014
SAE Institute Miami Audio Technology Program graduate and current SAE Atlanta faculty member Matt Hayes recorded and mixed the song "Till It's Gone" by the rapper Yelawolf, which was recently featured on the popular FX television series "Sons of Anarchy". "Till It's Gone" will be included on Yelawolf's upcoming album "Love Story", which will be released on Shady Records/Interscope Records.
"When it comes to mixing, my strengths are creating clean-sounding vocals and deep, strong bass," says Hayes. "Both of those elements are important in rap, and the prominent vocals made 'Till It's Gone' especially good for usage on television."
Hayes grew up in south Florida. He demonstrated interest and talent in music at an early age, and eventually became an accomplished drummer, guitarist, pianist, and bass player. After graduating from South Plantation High School in Plantation, FL in 1999, he found work as a session musician, and as a result of his studio work, developed an interest in the music recording and audio technology process. He enrolled at Florida International University in 2000 and graduated with a B.B.A. degree in 2004. In 2004, he began his studies at SAE Miami, eventually earning an Audio Technology Diploma and a WAVES Certification in 2006.
"Having gone through the SAE curriculum, I wanted to be a part of it, so once I graduated, I began working at the Miami campus as a part-time lab instructor," says Hayes. "After joining the faculty at SAE Atlanta in 2009, I became an assistant engineer, and eventually an engineer at Tree Sound Studios in Norcross, GA," says Hayes. "I'm now doing freelance mix and tracking engineering through Milk Money Consulting, where I've worked on projects for Sean Paul, Wiz Khalifa, Bubba Sparxxx, Big K.R.I.T., Gangsta Boo, Rittz, and dozens of others."
Along with teaching at SAE Atlanta, Hayes is currently working with producer Will Power (aka Supa Hot Beats) on Yelawolf's "Love Story" album, which is being recorded at Blackbird Studios in Nashville and will be mixed at Silent Sound Studios in Atlanta. Hayes has been part of Yelawolf's production team since Yelawolf's first album "Radioactive" and his follow-up "Trunk Muzik Returns".
"To be successful as an engineer, so you have to work, work, work and never get lazy," says Hayes. "The world doesn't owe you anything. You have to push, be smart, and make your achievements happen."
About SAE:
SAE Institute provides aspiring creative media professionals with a foundation of practical theory and valuable hands-on training in their chosen areas of concentration. Under the guidance of our faculty, which is comprised of working industry professionals, students gain the essential experience they need for entry-level jobs in the entertainment business. Our students are supported in their job searches by SAE's international network of alumni, many of whom are leaders in the music, film, game arts, and live performance arenas. We offer programs in audio technology across our seven US campuses, along with a music business program at select locations, all fully accredited and focused on preparing students for employment when they graduate. Bachelor's Degree programs in Animation, Audio, Film, Game Art & Graphic Design are available at the two locations of Ex'pression College, which is owned and operated by SAE Institute Group, Inc. SAE Institute Group, Inc. is a part of Navitas LTD. Learn more at USA.sae.edu.
About Navitas:
Navitas is an Australian global education leader, providing pre-university and university programs, English language courses, migrant education and settlement services, creative media education, student recruitment, professional development, and corporate training services to more than 80,000 students across a network of over 100 colleges and campuses in 27 countries. Learn more at Navitas.com.