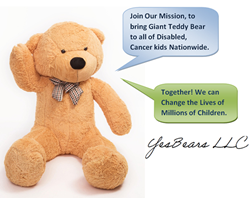 Together, we can change the lives of millions of children. Please help us on Indiegogo Crowd Funding.
(PRWEB) July 22, 2014
Millions of children today are either born with or are suffering from cancer or other critical diseases. These children are desperately searching for a cure, and even considering all of the advances in medical technology and the top medical experts, they are still unable to provide a cure for them. Most importantly, though, these children need a reason to smile. This upcoming Christmas, YesBears LLC will be providing a 5-ft. Giant Teddy Bear to disabled children, cancer kids, and children's hospital nationwide. Many of these children suffer from inhibiting movement restrictions, but a giant teddy bear is a friend that can be lying next to them in their hospital bed all of the time, lifting their spirits and naturally cheering them up.
YesBears' mission is to bring these giant teddy bears to sick children. Together, we can make this happen. We can change the lives of millions of children, giving them happiness and joy even during the midst of their sickness and dire suffering. Yesbears need as much help and support from public as possible to turn this conceptual event into reality. By the end of this campaign, YesBears hope to have sufficient funds to start mass production and fulfill every sick child's dream this Christmas.
Yesbears' vision is to have these giant bears delivered to every local hospital and centre for disabled children throughout the entire nation.The goal is to have a minimum of 10,000 bears made by the end of December. With a designated toy truck stopping at each location, be sure to check local TV news, radio and Yesbears blog page for any upcoming events.
Please help us on Indiegogo Crowd Funding Website: Click Here.
Randy Powell
Co-Founder
Randy(at)Yesbears(dot)com