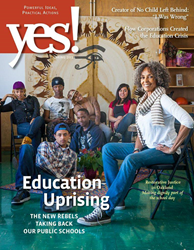 For decades, the myth of failing public schools justified industrial-scale testing and a privatization agenda.
Seattle, WA (PRWEB) March 31, 2014
In decaying public schools throughout America, young people are taught to tolerate boredom, lower their expectations, and prepare for a future of low-wage jobs. Those who act out are misunderstood and set on a cycle of ineffective punishment. But a growing movement is pushing back, led by teachers who refuse to administer standardized tests that they believe are not helping students learn.
Education Uprising, the Spring 2014 issue of YES! Magazine, questions the assumptions of standardized testing, revisits the statistics used to justify public policy in schools, and imagines a more inclusive and just classroom for all.
A selection from this article series follows:

For decades, the myth of failing public schools justified industrial-scale testing and a privatization agenda. Now, activist educators nationwide are bursting the bubble test, getting culturally relevant, and restoring justice to the classroom.
In the rush to privatize the country's schools, corporations and politicians have decimated school budgets, replaced teaching with standardized testing, and placed the blame on teachers and students.
Parents, students, and teachers all over the country have joined the revolt to liberate our kids from a test-obsessed education system.
Education costs $600 billion a year. There's plenty in it for the corporations.
In her new book, Diane Ravitch—one of the leading thinkers behind the controversial Bush-era law—explores how the faulty logic of high-stakes testing, charter school expansion, and privatization hinders education.
As executive director of Restorative Justice for Oakland Youth, Fania Davis sees programs like hers as part of the way to end the school-to-prison pipeline.
-----------------
YES! editors and contributing writers are available for interviews. Please contact Susan Gleason at sgleason(at)yesmagazine(dot)org or by cell phone at (206) 931-2613.
YES! articles are freely available for reposting and reprinting via our simple creative commons guidelines: yesmagazine.org/reposts.
About Dean Paton
Dean Paton, YES! Magazine's Executive Editor, is an award-winning journalist and scriptwriter. He became Seattle Correspondent for the Christian Science Monitor in 1999, when he covered the World Trade Organization meetings in Seattle, and has written extensively on issues of education, transportation, healthcare and technology. Dean is a video producer and earned an Emmy for co-writing a television documentary on nuclear disarmament, "A Question of Survival." Dean is an experienced guest on radio and television broadcasts.
About Sarah van Gelder
Sarah is cofounder and editor-in-chief of YES! Magazine. She writes articles and op-eds for Huffington Post, The Guardian, and American Forum, and speaks nationally on leading-edge innovations that show that another world is not only possible, it is being created today. Sarah is a regular guest on public radio and has also appeared on the PBS NewsHour program, Thom Hartmann's Big Picture, Democracy Now!, The Laura Flanders Show, and Free Speech TV. In her recent conference appearances and broadcast interviews, Sarah is regularly invited to speak about solutions journalism and social movements.
About YES! Magazine
YES! Magazine, winner of the 2013 Utne Media Award for General Excellence, reframes the biggest problems of our time in terms of their solutions. Online and in print, YES! outlines a path forward with in-depth analysis, tools for citizen engagement, and stories about real people working for a better world. Project Censored calls YES! "the standard for solutions journalism." Democracy Now!'s Amy Goodman calls YES! a "vital voice of independent journalism." Treehugger.com named YES! the best green business and politics website of 2011.
###