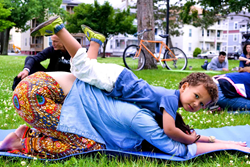 Enhancing children's health is the heart of what we do. In this age and era, where stress is mounting, it is our commitment to create opportunities elevating our consciousness in unity with our community. -Rose Pavlov, Founder of Ivy Child International
Worcester, MA (PRWEB) May 17, 2016
These free sessions will occur twice per week on the following schedule:
Wednesdays from Noon to 1:00 PM on June 1, 8, 15, 22, 29, and July 66, 13, 20.
Saturdays from 10:00 AM to 11:00 AM on June 4, 11, 18, 25, and July 9, 16, 23, 30.
Given the growing success of YITP in the prior three years, and in response to the request from the City of Worcester, Ivy Child International has doubled the frequency from once to twice a week to better serve the community. Since its inception in 2013, Yoga in the Park has served over 3,000 Worcester area residents.
As a child-centered non-profit organization, Ivy Child International embraces this opportunity to expand and provide mindful practices inter-generationally. The venue of Worcester Oval Commons creates opportunities for working professionals to get involved de-stress and join the mindfulness movement during their lunch hour. This location can be easily reached by public transportation.
"No matter where we live in this world, we all experience stress," said Rose Pavlov, founder and CEO of Ivy Child International, "Enhancing children's health is the heart of what we do at Ivy Child International. In this age and era, where stress is mounting, it is our responsibility and commitment to create opportunities elevating our consciousness in unity with our community. It continues to be a privilege to witness the growth of this program benefiting individuals of all ages."
Mindful Yoga In The Park 2016 is sponsored by Fallon Health, Birchtree Bread Company, City of Worcester, D'angelos Sandwiches, Enlightened Interventions, Flowforms Yoga, Harvard Pilgrim Health Care, Reliant Medical Group, UniBank and Union Street Yoga.
Ivy Child International is a non-profit organization working to enhance the social and emotional well-being of children worldwide by recognizing their multicultural needs, and using education rooted in positive psychology as a uniting force to inspire resilience and leadership. Ivy Child develops innovative programming for hospitals, healthcare centers and schools, which feature yoga, mindfulness, meditation, music and art. Learn more about SUPPORTING Ivy Child's work. Make a difference today!