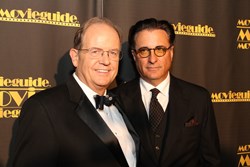 We are delighted to have YM & Associates partner with MOVIEGUIDE® and lead us into a new and exciting territory with our first annual gifting suite. We look forward to delivering yet another successful event..." said Dr. Baehr
Hollywood, Ca (PRWEB) December 17, 2013
YM & Associates, a boutique public relations and marketing agency, has been presented the honor of organizing and planning the "First Annual Official Backstage MOVIEGUIDE® Awards Gifting Suite Experience" on behalf of MOVIEGUIDE®.
The event will be held on February 7, 2014 in Universal City at the lavish Universal Hilton hotel during the 22nd annual MOVIEGUIDE® Faith & Values Awards Gala and Annual Report to Hollywood.
The first annual gifting suite experience is an exciting and highly-anticipated kick-off signifying the expansion of MOVIEGUIDE®'s already successful award ceremony, which has more than 500 guests representing Hollywood's best and brightest. The gifting suite experience will include hosts, presenters, nominees, performers and VIP guests, as well as celebrities.
The Annual MOVIEGUIDE® Faith & Values Awards Gala and Annual Report to Hollywood celebrates and honors outstanding filmmakers and entertainment executives who develop positive, ethical and morally-balanced films and television productions. Some of the top honors given away each year include MOVIEGUIDE®'s 'Best of the Year' family and mature movies, the Grace Award for Inspiring Acting, The Faith & Freedom Awards, the John Templeton Foundation grant supported $50,000 Kairos Prize for Spiritually Uplifting Screenplays from Beginning and First-Time Screenwriters and the $50,000 Chronos Prize for Spiritually Uplifting Screenplays from Established Filmmakers, and the celebrated $100,000 Epiphany Prizes for Inspiring Movies & for TV. Next year will also mark the 29th anniversary of MOVIEGUIDE® and the 36th anniversary of Good News Communications, Inc., founded by Dr. Ted Baehr. Dr. Baehr is a noted author and publisher who has made many media appearances, including Fox News, CNN, Hannity & Colmes, Oprah Winfrey, Entertainment Tonight, The New York Times, The Washington Post, and USA Today to name a few.
"We are delighted to have YM & Associates partner with MOVIEGUIDE® and lead us into a new and exciting territory with our first annual gifting suite. We look forward to delivering yet another successful event that highlights our awards ceremony and complements our mission," Dr. Baehr said.
The First Annual Official Backstage MOVIEGUIDE® Awards Gifting Suite Experience will include a variety of sponsorship packages of different levels, including "Gem," "Sterling Silver," "Gold," and "Platinum" package options. The gifting suite will also have a Red Carpet ceremony with celebrity guests during the awards event. Proceeds from the gifting suite will benefit Good News Communications, which is a 501(c)3 non-profit organization.
This year the Awards Gala has received confirmation the following celebrities that will be participating and or attending MOVIEGUIDE® Award and Gifting Suite Experience. Mark Burnett, Roma Downey, John Ratzenberger, Andy Garcia, Kevin Sorbo, Sharif Atkins, Corbin Bernsen, James Denton, and A.J. Mikchalka to name a few.
"YM & Associates is thrilled and honored to partner with MOVIEGUIDE®, which has been a well-respected and influential organization that the entertainment industry has trusted for decades," said Yvette Morales, founder and president of YM & Associates. "We look forward to hosting an extraordinary and memorable event that will honorably represent MOVIEGUIDE® and entertain all of the attendees. Our team is committed to taking MOVIEGUIDE® to new heights with next year's event."
To learn more about the Moviguide® Awards, visit http://www.movieguideawards.com. To be a sponsor or participate in the Gifting Suite Experience, contact YM & Associates at giftingsuite(at)YM-PR(dot)com.
For Media Inquiries, Interviews or Sponsorship Opportunities, Contact:
Yvette Morales
YM & Associates
PR | Marketing | Branding
California | New York
Phone: 949.244.9769 | 310.499.0906 Fax
Email: YMoralesY(at)YM-PR(dot)com
http://www.YM-PR.com
@YMTheBevHillsPR
To help you discern the Good, the True, and the Beautiful, please visit us daily at http://www.movieguide.org.
Note: For more information, or to arrange an interview with Dr. Ted Baehr, founder of CFTVC and author of THE CULTURE-WISE FAMILY, SO YOU WANT TO BE IN PICTURES, and many other books, please call 1-888-248-6689.