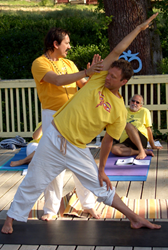 The Yoga of Recovery was an important support in my recovery from addictions.
Los Angeles, CA (PRWEB) April 20, 2014
Yoga of Recovery Retreat is an opportunity to integrate the wisdom of Yoga and Ayurveda with the tools of recovery. It is open to all who are looking to overcome self-destructive or addictive tendencies.
This special retreat deepens that still further with Ayurveda, the medical / holistic healing, sister science of Yoga. Ayurveda works at healing and purifying the body and mind, giving practical advice on diet and lifestyle adjustments needed to live in harmony with the environment (both internal and external).
In this retreat, students can learn about the Ayurvedic Constitution. This knowledge can be of great benefit in recognizing addictive behaviors and the needs and vulnerabilities that underlie them, empowering participants in their healing process.
During the retreat, students can also participate in daily open / 'all programs' 12-Step Meetings, where we talk about the experience, strength and hope in regard to any addictive habit we are recovering from. It is refreshing to be in a group that has the opportunity to discuss a cross-range of addictions like this - it allows us to share in a broader way and helps us develop more openness and compassion around both our own lingering compulsions and the struggles of people with different 'drug of choice' than ours.
Please note that the Yoga Farm requires alcohol / chemically dependent guests to have at least three months of continuous sobriety, or at least have the stability to undertake a disciplined daily schedule.
The Yoga of Recovery Retreat brings together three powerful healing modalities - Yoga, Ayurveda and 12-Step Recovery. This is the first and only retreat that offers this powerful combination. It is "the evolution of the solution."
Curriculum
Retreat includes:
Meditation
Kirtan/Satsang
Conscious relaxation sessions
Asana (physical postures for all levels)
Pranayama (breathing exercises)
Sattvic vegetarian diet
Karma yoga (helping with chores around the ashram)
Ayurveda workshops
Tools of recovery workshops
Open 12 'non-specific' step meetings
Ayurvedic consultations and body treatments are available (additional fee and pre-booking required)
Ayurveda and Tools of recovery workshops cover:
Root causes of addiction
Healing from addiction using a multi-dimensional perspective
Cultivating sattva (peace and serenity)
Training the mind through Yoga and meditation
Supporting health with Ayurveda
Positive thinking practices to support recovery
Asana and Ayurveda for strengthening the body
Proper diet and how to eat
Parallels between yoga philosophy and 12-step principles
Daily Schedule
5:30 a.m. Wake up
6:00 a.m. Satsang: meditation, kirtan/chanting and talk on yoga
8:00 a.m. Yoga asana class
10:00 a.m. Vegetarian brunch
11:00 a.m. Karma Yoga (selfless service)
12 - 1 p.m. Yoga of recovery Workshop
1-3 p.m. Free Time (take advantage of Ayurveda consultations and body treatments)
3 - 4 p.m. Open 'pan fellowship' 12 Step-Meeting
4:30 - 6 p.m. Yoga of Recovery Workshop
6:00 p.m. Vegetarian dinner
8:00 p.m. Satsang: meditation, kirtan chanting and talk on yoga
10:00 p.m. Lights out
Prerequisites
Open to everyone - especially beneficial to those overcoming addiction and self-destructive behaviors and people with family members/histories of addiction. We require alcohol/chemically dependent guests to have at least three months of continuous sobriety.
The Yoga Farm also hosts a Yoga Nidra course, courses on Yogic philosophy, Yoga for back pain and ayurvedic retreats, and an advanced teacher's training course (ATTC). The Advanced Yoga Teacher's Training Course helps graduates to deepen their spiritual practice and their study of Hatha yoga, Vedanta philosophy, Raja yoga, anatomy and Sanskrit. The advanced class gives students an additional chance to practice under guidance in a supportive atmosphere, which provides many with a boost of energy and clarity.
About Sivananda Ashram Yoga Farm
In 1971, Swami Vishnudevananda returned to California and founded the third ashram in the young Sivananda International organization: the Sivananda Ashram Yoga Farm on 40 acres of land located in the Gold Country of the beautiful Sierra Nevada Foothills in Northern California. The non-profit, non-sectarian ashram offers yoga classes, retreats and teacher training courses for students of all abilities. For more information, please visit http://sivanandayogafarm.org.