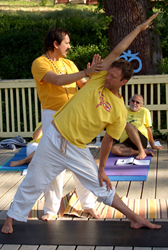 Wonderful program, deepen my understanding of Yoga and Ayurveda.
San Francisco, CA (PRWEB) April 17, 2014
This retreat aims to introduce the 107 vital energy centers (Marmas) of the body, their identifications, functions, how to incorporate them in a regular practice of yogic posture. The knowledge can deepen one's yoga practice and is a good introductory course to energy medicine. This course is designed for yoga teachers, serious yoga students, and health practitioners who are interested in using vital energy centers for healing. For more information, please visit http://www.sivanandayogafarm.org.
Marma Therapy has ever been one of Ayurveda's most powerful healing modalities for stress and pain management. Marmas are vital, hidden or secret points found where energy and matter come together or, as one can say, ''where the tissues of the body eavesdrop on your internal dialogue". Marmas are points that are intelligent and can keep the body in touch with itself and its needs. This specialized massage technique is particularly useful to heal damaged tissue, to detoxify by activating the lymphatic system, to unblock tension from nerves, muscles and joints and to facilitate proper Pranic flow. A rejuvenative, relaxing and revitalizing therapy, Marma Points Massage offers a holistic approach as it helps to harmonize body and mind.''
Schedule
6-8am Satsang: Silent meditation, chanting and lecture
8-10am Yoga Class
10am Brunch
11am Karma Yoga
12:00 - 4:00pm Marma Points Workshop with Bharata and Sankara
4-6pm Yoga Class
6pm Dinner
7-8pm Free Time
8-10pm Satsang: meditation, chanting and lecture
Arrival and Departure
The course will begin at 7pm on the 1st night with Orientation followed by Satsang, and will end on the last day after the final workshop.
Sankara (Clement Lam) - About Sankara (Clement Lam)
Sankara took his TTC in 2005 and came back to complete his ATTC at the Yoga Farm in 2010. Since that time he has been serving as a karma yogi and teacher in many programs, Including TTCs at the Yoga Farm and in Vietnam! Additionally he has studied Ayurveda healing and Marma point therapy.
Bharata Surya - About Bharata Surya
Javier Lopez(Bharata Surya) is a Sivananda Yoga Teacher and a certified Ayurveda Practitioner, Counselor , Pancha Karma specialist and Marma therapist trained in the US and India. For the last 15 years he has led a private practice and dealt in multiple corporate scenarios leading stress and pain management programs. He is actively providing marma therapy services at the Yoga Farm & centers in California.
The Yoga Farm also hosts a Yoga Nidra course, courses on Yogic philosophy, Yoga for back pain and ayurvedic retreats, and an advanced teacher's training course (ATTC). The Advanced Yoga Teacher's Training Course helps graduates to deepen their spiritual practice and their study of Hatha yoga, Vedanta philosophy, Raja yoga, anatomy and Sanskrit. The advanced class gives students an additional chance to practice under guidance in a supportive atmosphere, which provides many with a boost of energy and clarity.
About Sivananda Ashram Yoga Farm
In 1971, Swami Vishnudevananda returned to California and founded the third ashram in the young Sivananda International organization: the Sivananda Ashram Yoga Farm on 40 acres of land located in the Gold Country of the beautiful Sierra Nevada Foothills in Northern California. The non-profit, non-sectarian ashram offers yoga classes, retreats and teacher training courses for students of all abilities. For more information, please visit http://sivanandayogafarm.org.