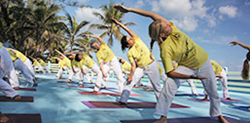 Great course. Helped me deepen my Yoga practices inmensely
Paradise Island, Bahamas (PRWEB) March 13, 2014
This program will introduce the basics of Ayurveda, including the doshas and the individual constitution, the root cause of disease, proper individualized nutrition, and Ayurvedic psychology.
For more information, please visit: http://sivanandabahamas.org/course.php?course_id=4024
Ayurveda is the knowledge of life, as revealed to the Rishis (seers) of ancient India. Offering a complete system of health and healing to guide the body in journeying back to optimal health, Ayurveda has been practiced for over 5,000 years by millions of individuals. This program is part of the Yoga Vacation Program.
Swami Vishnudevananda's Five Points of Yoga
Proper Exercise: Yoga exercises focus on the health of the spine, its strength and flexibility. By maintaining the spine's flexibility and strength through exercise, circulation is increased and the nerves receive their proper supply of nutrients and oxygen. The exercises also affect the internal organs and endocrine system.
Proper Breathing: Yoga teaches how to maximize lung capacity and how to control the breath. This increases vitality and mental clarity.
Proper Relaxation: By learning how to deeply relax all the muscles of the body, you can thoroughly rejuvenate your nervous system and attain a deep sense of inner peace. Yoga teaches us how to achieve this state of complete relaxation.
Proper Diet: The Yogic diet is a vegetarian one, consisting of pure, simple, natural foods which are easily digested and promote health. The Yogic diet will help you attain a high standard of health, keen intellect and serenity of mind.
Positive Thinking and Meditation: We become what we think. Through methods of positive thinking you will learn how to entertain positive and creative thoughts which contribute to vibrant health and a peaceful, joyful mind. Meditation opens the door to intuitive knowledge and realms of eternal bliss. The mind becomes calm and steady.
Located across the bay from Nassau, on one of the finest beaches in the world, the Sivananda Ashram Yoga Retreat is an island paradise with a tropical garden, crystal clear water and pure white sands - a true sanctuary of peace and natural beauty. Recognized among world Yoga Retreats, the ashram offers year-round programs presented by world renowned speakers, as well as certification courses on various yoga related topics through which you can expand your knowledge, gain a new skill and get certified while enjoying a joyous yoga practice and blissful relaxation. The Yoga retreat center also offers year-round Yoga teacher training programs, Ayurvedic Yoga Therapy Courses, Yoga for beginners, Yoga vacations and many other courses.
For more information, please visit http://www.sivanandabahamas.org.