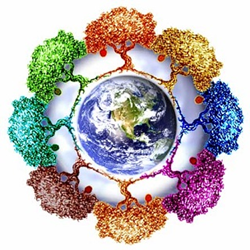 "The Great Work, now as we move into a new millennium, is to carry out the transition from a period of human devastation of the Earth to a period when humans would be present to the planet in a mutually beneficial manner." ~ Thomas Berry C.P.
Los Angeles, California (PRWEB) March 24, 2014
This program is about becoming beacons of peace by making peace with the Earth. We live in a vibrant world of deep interconnections. Yet many of us rush around blithely indifferent to the Earth as the source and support of our existence. Often, it seems, we are too busy to enjoy the gift of each other and the simple abundance of Gaia (the Earth). We have created a dangerous imbalance. For more information, please visit: http://www.yogafarm.org/course/1115
Gaia Shanti Yoga is a program that explores how we arrived at this point in our human journey, how a modern mindset has separated us from the natural world, and how we can achieve a kind of peace that comes when we live in balance with Gaia, the Earth. We will consider the insights of the new cosmology as expressed by Thomas Berry, reflect on a spirituality of the Earth, and look into lifestyle solutions which are reasonable and feasible for the average person. It is an opportunity to reestablish a sacred relationship with the Earth and with each other for the common good.
Daily Schedule
6-8am Satsang: Silent meditation, chanting and lecture
8-10am Yoga Class
10am Brunch
11am Karma Yoga
3-4pm Free Time and Nature walks
4-6pm Yoga Class 6pm Dinner
7-8pm Free Time
8-10pm Satsang: meditation, chanting and lecture
Pre-requisite
There are no prerequisites other than a sincere desire to learn classical yoga.
What to Bring
slip on shoes, loose comfortable clothing, writing materials, meditation shawl or blanket, yoga mat, flashlight.
All books and materials are available in our boutique.
About Joseph Mitchell, CP
Joe Mitchell is a Catholic priest and member of the Passionist religious community. He studied theology at Catholic Theological Union in Chicago and earned a graduate degree in Philosophy, Cosmology and Consciousness from the California Institute of Integral Studies. His ministry includes presenting retreats in Christian spirituality, meditation courses, religious environmental programs, as well as workshops in the new cosmology and Great Work.
About Swami Omkarananda
Swami Omkarananda is a radiant Yogini renunciate who has more than 20 years of experience in Yoga and meditation. She is the current director of the Sivananda Los Angeles Yoga Center and was assistant director at the Sivananda Ashram Yoga Farm for many years. She had a medical background in England and hails from Australia originally. She earned her Certificate in Permaculture Design and Advanced Permaculture from Mid West Permaculture and is now passionate about bringing Yoga and the Environment together at this exciting time of Transition. Her practical lectures are about Yoga philosophy, Vedanta and how to deal with emotions and mind in times of transition. http://www.sivanandayogafarm.org/our_teachers
In 1971, Swami Vishnudevananda returned to California and founded the third ashram in the young Sivananda International organization: the Sivananda Ashram Yoga Farm on 40 acres of land located in the Gold Country of the beautiful Sierra Nevada Foothills in Northern California. The non-profit, non-sectarian ashram offers yoga classes, retreats and teacher training courses for students of all abilities. For more information, please visit sivanandayogafarm.org Yoga retreats are also offered in Yoga vietnam.
The ashram also offers a Yoga Nidra course as well as jyotish (vedic astrology) classes. Registration is currently open. For more details please visit http://www.sivanandayogafarm.org or call (530) 272-9322/(800)469-9642.
"Swami Sivananda of Rishikesh taught Yoga-Vedanta, which came to the West through his many disciples like Satchidananda, Vishnudevananda, Ventakeshananda and Jyotirmayananda. The Sivananda Yoga Vedanta centers founded by Swami Vishnudevananda teach regular programs on Yoga-Vedanta and with references to Ayurveda as well. I have done many programs with this organization and find it to be the best Yoga training group in the west." -Dr. David Frawley