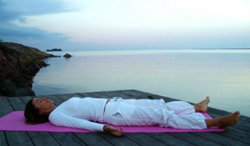 Deep cleansing. A great retreat
Sacramento, California (PRWEB) April 19, 2014
The Detoxification and Juice Fasting Program is an ideal opportunity to deeply cleanse and rejuvenate body and mind in a safe and supportive environment. Students can rest in the warmth of the northern California summer, enjoying clean air and sunshine in the Sierra foothills, and the support of experienced staff and health care practitioners.
Juice-fasting is the fastest and safest way to eliminate toxins from the body. Fruit and vegetable juices and herbal teas help the process of detoxification while adding vitamins and minerals to the body. Juice fasting allows the body to stay slim, healthy and vital. By fasting people give their digestive system the opportunity to rest, and in so doing, the body has more energy. This energy is used by the mind and you enjoy mental clarity, concentration, and control over the senses. Participants feel light, joyful, and peaceful.
The program is designed to create a transformation not only on the physical level but also on the mental, emotional, and spiritual levels. Herbal supplements, yoga and meditation help with this. With the practice of both yoga and fasting you will achieve a higher degree of physical, mental and spiritual awareness as toxins are eliminated.
Benefits

Cleanses organ systems of the body
Relieves congestion in the body
Balances digestion
Increases absorption of nutrients
Improves eliminative functions of the body
Aids in weight reduction
Relieves tiredness of the body and mind
Re-energises body and mind
Reduces skin problems
Eases pain and inflammation
Curriculum
Days 1 - 2: detox preparation with raw salads and nuts
Days 3- 7: juicing with blue-green algae, spirulina, raw vegetable and fruit juices, vegetable broth, a fibre formulation for improving bowel detoxification, and a detoxification formula for regulating the detox process. Organic decaffeinated green tea is served as a beverage and in liquid extract form and probiotics are given to enhance intestinal detoxification.
Days 8 - 10: breaking the fast, transitioning back to a healthy diet with instructions on creating a healthy eating pattern at home.
Lectures are given throughout the course on the following topics:
Detox physiology
Constipation
Digestion
Weight loss
Allergies/stress
anxiety
Exercise
Integrative nutrition
Breaking the fast and healthy eating
Colonics can be arranged through reception during this program.
Nutritional consultations are also available
Daily Schedule
6-8am Satsang: Silent meditation, chanting and lecture
8-10am Yoga Class
10am Meal 1
11am Karma Yoga
1:30pm Meal 2
2:30 Nutrition Workshop
4-6pm Yoga Class
6pm Meal 3
7-8pm Free Time
8-10pm Satsang: meditation, chanting and lecture
The Yoga Farm also hosts a Yoga Nidra course, courses on Yogic philosophy, Yoga for back pain and ayurvedic retreats, and an advanced teacher's training course (ATTC). The Advanced Yoga Teacher's Training Course helps graduates to deepen their spiritual practice and their study of Hatha yoga, Vedanta philosophy, Raja yoga, anatomy and Sanskrit. The advanced class gives students an additional chance to practice under guidance in a supportive atmosphere, which provides many with a boost of energy and clarity.
About Sivananda Ashram Yoga Farm
In 1971, Swami Vishnudevananda returned to California and founded the third ashram in the young Sivananda International organization: the Sivananda Ashram Yoga Farm on 40 acres of land located in the Gold Country of the beautiful Sierra Nevada Foothills in Northern California. The non-profit, non-sectarian ashram offers yoga classes, retreats and teacher training courses for students of all abilities. For more information, please visit http://www.sivanandayogafarm.org.