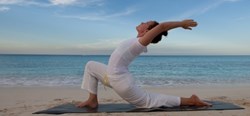 The Healing Your Relationship with Food was very interesting and complete.
Bahamas, Caribbean (PRWEB) September 23, 2013
Learn a range of methods for changing unhelpful thoughts, beliefs and behaviors regarding food in a nurturing and supportive atmosphere. The program will take place from November 17 - 20, 2013
From the ground of mindfulness, attentional training, and self-kindness, this workshop focuses on gaining insight into unhealthy habitual patterns and on building the psychological resources needed for change.
The days will include experiential learning to:
Illuminate deeply held beliefs about food and eating
Explore food craving and restrictive eating
Practice new eating behaviors
Enhance a healing partnership between mind and body
Experience the power of self- kindness in the process of change
Practice mindfulness skills to reduce stress and emotion driven eating
Learn breath and body awareness practices to redirect compulsive urges
Located across the bay from Nassau, on one of the finest beaches in the world, the Sivananda Ashram Yoga Retreat is an island paradise with a tropical garden, crystal clear water and pure white sands - a true sanctuary of peace and natural beauty. Recognized among world Yoga Retreats, the ashram offers year-round programs presented by world renowned speakers, as well as certification courses on various yoga related topics through which you can expand your knowledge, gain a new skill and get certified while enjoying a joyous yoga practice and blissful relaxation. The Yoga retreat center also offers year-round Yoga teacher training programs, Ayurvedic Yoga Therapy Courses, Yoga for beginners, Yoga vacations and many other courses.
For more information, please visit sivanandabahamas.org.