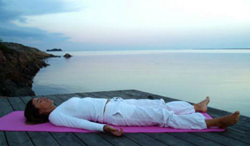 A wonderful program, don't miss it.
Sacramento, CA (PRWEB) April 16, 2014
An intensive one week program developed for beginners, or those new to Sivananda Yoga will be held in Grass Valley, California. This course gives students the full yogic experience, progressively introducing yoga asanas, breathing exercises, meditation, mantra chanting and yoga philosophy and the 5 points of Yoga. Participants will be immersed in the daily routine of yoga and will experience wholesome vegetarian meals. The purpose of the program is to leave participants refreshed with the basic knowledge of how to continue to practice at home. For more information, please visit http://www.sivanandayogafarm.org/.
Curriculum

Step by step guide to the basic 12 postures, explanation of benefits of the postures
What is classical yoga? Intro to the tradition of lineage of the yoga masters
What is the purpose and what are the methods of classical yoga?
Basic philosophy about happiness, health, life, freedom
Difference between yoga asana and physical exercises
Yogic techniques of breathing
Vegetarianism-the how and why
Relaxation and stress management
Positive thinking
Basic technique of meditation
The yogic daily routine
Daily Schedule
6-8am Satsang: Silent meditation, chanting and lecture
8-10am Beginners Yoga Class
10am Brunch
11am Karma Yoga
1-3pm Beginners Workshop
3-4pm Free Time and Nature walks
4-6pm Open Yoga Class
6pm Dinner
7-8pm Free Time
8-10pm Satsang: meditation, chanting and lecture
Pre-requisite
There are no prerequisites other than a sincere desire to learn classical yoga.
The Yoga Farm also hosts a Yoga Nidra course, courses on Yogic philosophy, Yoga for back pain and ayurvedic retreats, and an advanced teacher's training course (ATTC). The Advanced Yoga Teacher's Training Course helps graduates to deepen their spiritual practice and their study of Hatha yoga, Vedanta philosophy, Raja yoga, anatomy and Sanskrit. The advanced class gives students an additional chance to practice under guidance in a supportive atmosphere, which provides many with a boost of energy and clarity.
About Sivananda Ashram Yoga Farm
In 1971, Swami Vishnudevananda returned to California and founded the third ashram in the young Sivananda International organization: the Sivananda Ashram Yoga Farm on 40 acres of land located in the Gold Country of the beautiful Sierra Nevada Foothills in Northern California. The non-profit, non-sectarian ashram offers yoga classes, retreats and teacher training courses for students of all abilities. For more information, please visit http://www.sivanandayogafarm.org.