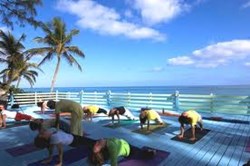 Small classes, beautiful surroundings, and carefully orchestrated steps to the asanas made the course a success for everyone. I leave with my heart singing and my mind quiet – recharged, ready to learn more, and to make yoga part of my life. Thank you.
Sacramento, CA (PRWEB) February 18, 2014
Whether the visitor is new to Yoga or simply new to the Sivananda practice, begin a Yoga journey in the ideal setting of the Yoga Retreat. Through immersion into the basics of yoga and extensive guided practice and theory studies, students will build your yoga practice on a solid foundation that will be sure to give a stable and joyous practice to last a lifetime. For more information please visit http://sivanandabahamas.org/course.php?course_id=3957
Mandatory Book: Yoga Mind & Body, Sivananda Yoga Vedanta Center (available at the Ashram's boutique from December – June, online and at the Sivananda Centers' stores worldwide.)
This course draws on ancient yogic wisdom for establishing inner and outer health and peace, and incorporate the 5 points of yoga as shared by Swami Vishnudevananda. These are:
Proper Exercise (Asanas) - Yoga poses help develop a strong, healthy body by enhancing flexibility and improving circulation.
Proper Breathing (Pranayama) - Deep, conscious breathing reduces stress and many diseases.
Proper Relaxation - Helps keep the body from going into overload, easing worry and fatigue.
Proper Diet - Eating simple, healthy and vegetarian foods that are easy to digest notably have a positive effect on the mind and body, as well as the environment and other living beings.
Positive Thinking and Meditation
Located across the bay from Nassau, on one of the finest beaches in the world, the Sivananda Ashram Yoga Retreat is an island paradise with a tropical garden, crystal clear water and pure white sands - a true sanctuary of peace and natural beauty. Recognized among world Yoga Retreats, the ashram offers year-round programs presented by world renowned speakers, as well as certification courses on various yoga related topics through which you can expand your knowledge, gain a new skill and get certified while enjoying a joyous yoga practice and blissful relaxation. The Yoga retreat center also offers year-round Yoga teacher training programs, Ayurvedic Yoga Therapy Courses, Yoga for beginners, Yoga vacations and many other courses.
For more information, please visit http://www.sivanandabahamas.org.