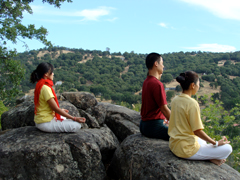 A great experience for all children in this modern age.
Sacramento, California (PRWEB) April 22, 2014
The Yoga Farm camp includes 2 daily yoga asana classes, special Children satsang with a short meditation, chanting, storytelling and Yoga Philosophy. Daily swimming in the pond, participating in outside games and play time, and enjoying trips to the beautiful and refreshing Yuba River. For more information, please visit http://www.sivanandayogafarm.org.
The Yoga Retreat has some new activities added to this year's camp like nature studies, hikes, painting, sketching, and even a drama production with music and costume preparation. Karma Yoga will be introduced to the campers, including chores around the farm, the garden and the farm animals.
They also offer a position for Junior Counselors, for campers who have been in our camp before, outgrew camp age and want to come back.
Experienced Sivananda Yoga Teachers have been leading this camp since the 1980ies every summer for youth age 7 - 14. All children will benefit from daily Yoga classes and breathing exercises combined with relaxation. Students will get the chance to learn about and practice mediation, the value of Karma Yoga (selfless service) and have their own children's satsang with lots of singing and inspiring stories. There will also be plenty of time for swimming, fun and games, and special activities outside the Yoga Farm.
The camp is an uplifting environment and ideal to create a foundation for a child's peaceful and healthy development.
Daily Schedule
7:00 am Wake up
7:30 am Breakfast
8:00 am Children's Morning Satsang Singing, Stories Meditation
9:00 Yoga Class
10:00 am Brunch and Cleanup
11:00 am - Noon Activity
(Nature walk, arts & crafts, etc.)
1:00 pm Lunch and Community work
2:00 pm Afternoon Activity
(swimming, workshops, excursions, etc.)
4:00 pm Yoga class
5:00 pm Showers and Relaxation
6:00 pm Dinner
7:30 pm Children's Evening Meditation and Get-Together
8:30 pm Quiet Time
9:00 pm Lights Out
The Yoga Farm also hosts a Yoga Nidra course, courses on Yogic philosophy, Yoga for back pain and ayurvedic retreats, and an advanced teacher's training course (ATTC). The Advanced Yoga Teacher's Training Course helps graduates to deepen their spiritual practice and their study of Hatha yoga, Vedanta philosophy, Raja yoga, anatomy and Sanskrit. The advanced class gives students an additional chance to practice under guidance in a supportive atmosphere, which provides many with a boost of energy and clarity.
About Sivananda Ashram Yoga Farm
In 1971, Swami Vishnudevananda returned to California and founded the third ashram in the young Sivananda International organization: the Sivananda Ashram Yoga Farm on 40 acres of land located in the Gold Country of the beautiful Sierra Nevada Foothills in Northern California. The non-profit, non-sectarian ashram offers yoga classes, retreats and teacher training courses for students of all abilities. For more information, please visit http://www.sivanandayogafarm.org.