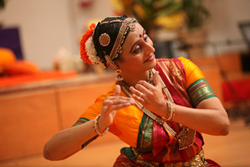 Be tolerant. Behold the unity of all faiths, cults, creeds and religions. Respect the views, opinions and sentiments of all. - Swami Sivananda
Sacramento,California (PRWEB) March 26, 2014
While every day at the Yoga Farm is special, some are extra special! The Yoga Farm commemorates the holidays by inviting special guests to come share their talents and teachings in honor of the day.
The Yoga Farm hosts many Special Guests throughout the year. They are some of the most accomplished teachers in Yogic Sciences, Ayurveda, Kirtan, and Creative & Performing Arts to complement the satsangs on Special Holidays.
Satsang literally means 'association with the wise'. Meditating together in a group creates a strong spiritual atmosphere which allows a deeper experience of meditation. In satsang, people of different levels practise together – from newcomers to experienced yoga teachers. Satsang is the heart of the yoga practice. It consists of 30 minutes of silent meditation,followed by meditative chanting of mantras and an easy-to-follow lecture on yoga philosophy or psychology complimented by the presentation of our special guests on special Holidays! Satsang is the gateway to inner peace and new horizons.
Here are some of the special dates that will be celebrated in 2014 and the special themes that will be discussed in these special occasions:
Easter Holiday: Sacred Healing- April 17-April 21
Memorial Day: Yoga of Sound & Voice Retreat-May 22-May 25
4th of July: 15th Annual Vedic Astrology Conference: Vedic Astrology and Understanding of the Mind-July 3-July 7
Guru Purnima and Sivananda Mahasamadhi-July 11—Monday, July 14
Labor Day - 2nd Annual Vedic Knowledge Integration Forum- August 28-September 1
Thanksgiving Retreat: Yoga Inner and Outer Peace and Spiritual Activism- November 26-November 30
Holiday and New Years Program on Spiritual Joy- December 25—Thursday, January 1
The Sivananda Yoga Farm welcomes everyone to come and enjoy one of these Holidays or Special Events and feel the peace and tranquility that visitors to the Yoga Farm have experienced for more then 40 years.For more information, please visit http://www.sivanandayogafarm.org.
The Yoga Farm provides a residential setting where spiritual practitioners of all levels can deepen their practice through the study of classical yoga, meditation and vedanta.
The Yoga Farm also hosts a Yoga Nidra course, courses on Yogic philosophy, Yoga for back pain and ayurvedic retreats, and an advanced teacher's training course (ATTC). The Advanced Yoga Teacher's Training Course helps graduates to deepen their spiritual practice and their study of Hatha yoga, Vedanta philosophy, Raja yoga, anatomy and Sanskrit. The advanced class gives students an additional chance to practice under guidance in a supportive atmosphere, which provides many with a boost of energy and clarity.
About Sivananda Ashram Yoga Farm
In 1971, Swami Vishnudevananda returned to California and founded the third ashram in the young Sivananda International organization: the Sivananda Ashram Yoga Farm on 40 acres of land located in the Gold Country of the beautiful Sierra Nevada Foothills in Northern California. The non-profit, non-sectarian ashram offers yoga classes, retreats and teacher training courses for students of all abilities. For more information, please visit sivanandayogafarm.org