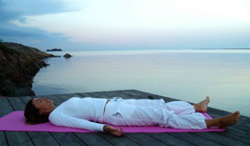 Yoga Labor Day Retreat
San Francisco, CA (PRWEB) April 24, 2014
This is the 2nd gathering of vedic teachers from different traditions sharing scriptural and empirical teachings of the Vedas (Sanatana Dharma). Acharya David Frawley will share deep knowledge from his new book on "Vedic Yoga - the path of the Rishi," Shambhavi offers graceful and insightful Tantra teachings and Mantra Yoga. Niranjan Babu, son of late B.V. Raman reveals secrets of Vaastu Science from India. Swami Svatmavidyananda brings more awareness with Adwaita Vedanta insights and Swami Mangalananda uplifts with his Bhakti in Kirtan presentation. Swami Omkarananda will share her experience on application of Vedic Ecology in our modern times and Pandit ji extraordinary resounding voice and homa, puja gave us direct experience of the power of Vedic Mantras and rituals. Jyotish teachings will come with Komilla and Ayurvedic teachings from Arun Deva.
Acharya David Frawley (Pandit Vamadeva Shastri)About Acharya David Frawley (Pandit Vamadeva Shastri)
Acharya David Frawley (Pandit Vamadeva Shastri) is the author of more than thirty books on Vedic subjects published in twenty languages over the last thirty years, including original translations from the Vedas and authoritative texts on Yoga, Vedanta, Ayurveda and Vedic astrology. Hiswork is widely respected in India, where he is honored as an Acharyaor master of the Vedic teachings. His teachings help serve as a bridgeto integrate the different fields of Vedic knowledge in a modern setting.
About Yogini Shambhavi
Yogini Shambhavi is one of the most important women teachers of Shakti Sadhana coming out of India today, guiding sadhaks how to access the inner energy and presence of the Goddess through both Vedic and Tantric Yoga approaches. She works internationally along with her partner Pandit Vamadeva Shastri. Shambahvi is the author of "Yogini, Unfolding the Goddess Within" and of "Yogic Secrets of the Dark Goddess", as well as important chanting CDs, Jyotir Bhava and Yogini Bhava.
About Komilla Sutton
Komilla is the co-founder and Chair of the british Association for Vedic Astrology. She is an internationally renowned consultant, teacher and lecturer. Indian born, Komilla Sutton is one of the pioneers in making tis subject more accesible for the Western readers. She is the author of 'Vedic Love Signs', 'Vedic Astrology', 'The Essentials of Vedic Astrology' and 'Lunar nodes - Crisis and Redemption'.
About Niranjan Babu
Niranjan Babu Bangalore is a scholar in Vastu, Astrology, Mantra Shastra, Gemstone and Meditation. He has authored several best seller books in English and several regional languages of India. He is an advisor for well-known temples, complexes and institutions. He has lectured, conducted workshops (and teaching classes) and given professional consultations in India, North America, Europe and other parts of the world. Many individuals, businesses and institutions have utilized his servicesand have greatly benefitted from his advice. He has been associated with his father and internationally reputed scholar of Vedic Astrology Dr. B. V. Raman's work since more than thirty five years. He was the CEO, Publisher and Managing Editor of The Astrological Magazine. He is now the Chief Editor of The Astrological eMagazine.
About Arun Deva
Arun Deva is a Diplomate in Ayurveda, an Ayur*yoga Therapist and a Vinyasa Krama certified yoga teacher. Arun started his studies of both yoga and Ayurveda as a child growing up in India and has made his home in Los Angeles for over 30 years now. He is the founder of Arunachala Yoga & Ayurveda and teaches workshops and classes internationally, is the author of numerous articles and has appeared on various TV and radio shows and has taught at various yoga & Ayurevda Events and Conferences. He also currently serves as Secretary for CAAM (California Association of Ayurvedic Medicine) and is on the Standards Committee of NAMA (National Ayurvedic Medcine Association). He has a clinical practice in West Hollywood, CA for consultations, treatments, panchakarma, and yoga therapy.
About Swami Sitaramananda
Swami Sitaramananda is a Yoga, Meditation, and Vedanta teacher for more than 30 years. She is presently the main teacher of the Yoga Teachers Training Courses offered at the Sivananda Ashram Yoga Farm, Grass Valley, CA where she is serving as the director for more then 17 years. She also teaches at other Sivananda Yoga Vedanta Ashrams & Centers in India, Bahamas, Asia, as well as Centers along the West Coast USA, including her birth country, Vietnam. She is a direct disciple of Swami Vishnu-devananda. She was nominated by her teacher as Goraknath acharya (spiritual teacher, one of the holders of the lineage) in 1989. Her lectures are based on the four classical paths of yoga as well as the 5 points of Health.
About Swami Omkarananda
Swami Omkarananda is a radiant Yogini renunciate who has more than 20 years of experience in Yoga and meditation. She is the current director of the Sivananda Los Angeles Yoga Center and was assistant director at the Sivananda Ashram Yoga Farm for many years. She had a medical background in England and hails from Australia originally. She earned her Certificate in Permaculture Design and Advanced Permaculture from Mid West Permaculture and is now passionate about bringing Yoga and the Environment together at this exciting time of Transition. Her practical lectures are about Yoga philosophy, Vedanta and how to deal with emotions and mind in times of transition.
About Pandit Samavedula
Pandit Smavedula is a 6th generation Sama Veda pandit who was trained in the Vedas beginning at age 7. He attended the Shri Sarva Raya Veda Patha Shala school in South India, and after 12 years of study, received his Master's Degree in Vedic Studies (Ganapati Pandit). Panditji will perform the pujas and homas during the conference.
About Swamini Svatmavidyananda
Arsha Vijnana Gurukulam is a 501 C 3 religious non-profit registered in the state of Georgia. Arsha Vijnana Gurukulam is a portal for the dissemination of the teachings of Sri Swamini Svatmavidyananda Saraswati, the disciple of Paramapujya Swami Dayananda Saraswati --an internationally renowned master and traditional teacher of Vedanta. In the Sanskrit language, the word "Arsha" means "of the sages." "Vijnana" means direct knowledge of oneself as the whole that is well understood and assimilated. Arsha Vijnana Gurukulam is a sanctuary for the understanding of oneself as free of all limitations as unfolded by Vedic seers. Arsha Vijnana Gurukulam was founded in March 2005 by Pujya Sri Swami Dayananda Saraswatiji. In addition to Atlanta, GA, Arsha Vijnana Gurukulam has satelite centers in Eugene, OR, and Washington DC. Arsha Vijnana Gurukulam is also a virtual ashram and teaching portal open to all serious spiritual seekers regardless of nationality or religious background. It actively seeks to promote religious tolerance and respect for diversity. We have two main teaching portals for livestreaming classes and for storing archived classes.
About Acharya Mangalananda
Acharya Mangalanda is an American disciple of Sri Anandamayi Ma and has been deeply associated with India and its culture for more than 40 years. Mangalananda lived and worked in Ma Anandamayi Ashram in central India for 12 years, where he still serves as an Acharya and Trustee. In 2001, he was asked to help open a school for the local village children. After founding the school, he also taught there for many years. Mangalananda is the author of OM MA: Anandamayi Ma, a short life sketch of one of the twentieth century's greatest saints. The book contains never before published stories, including the author's own memories of his time with Ma. More about Acharya Mangalananda: He has studied with some of the best Hindi teachers in India. He has been fully immersed in the culture for decades. He has taught English to Indian children via their native Hindi. He has taught many westerners to read, write, and converse in Hindi. He is an expert in Hindi grammar, pronunciation, sentence structure and expression, plus many local colloquialisms.
The Yoga Farm also hosts a Yoga Nidra course, courses on Yogic philosophy, Yoga for back pain and ayurvedic retreats, and an advanced teacher's training course (ATTC). The Advanced Yoga Teacher's Training Course helps graduates to deepen their spiritual practice and their study of Hatha yoga, Vedanta philosophy, Raja yoga, anatomy and Sanskrit. The advanced class gives students an additional chance to practice under guidance in a supportive atmosphere, which provides many with a boost of energy and clarity.
About Sivananda Ashram Yoga Farm
In 1971, Swami Vishnudevananda returned to California and founded the third ashram in the young Sivananda International organization: the Sivananda Ashram Yoga Farm on 40 acres of land located in the Gold Country of the beautiful Sierra Nevada Foothills in Northern California. The non-profit, non-sectarian ashram offers yoga classes, retreats and teacher training courses for students of all abilities. For more information, please visit sivanandayogafarm.org