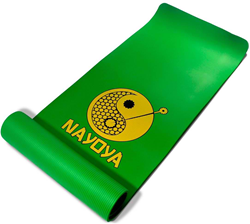 The thickness of the yoga mat really comes into play as I no longer have knee bruises and lower back pain. This mat is extremely comfortable to lay on and workout on
Los Angeles, CA (PRWEB) August 02, 2014
Nayoya Wellness, a company that specializes in helping its customers improve their fitness, recently announced the launch of its new line of yoga mats on Amazon. The yoga mats, which are praised for their great construction, quality, and comfort, are now available for $24.87, but customers can also take an additional 20 percent off using the code NAYOYA20.
According to specifications listed on the company's Amazon page, each beautiful yellow and green Yoga Mat measures 71 inches in length, 24 inches in width, and almost half an inch in thickness—optimal measurements for complete comfort. Nayoya Wellness chose green for the product because the color has been associated with balance, positive energy, growth, renewal, healing and life essence—the basis of yoga—and the company believes that its mats will bring calmness and more focus to exercise and yoga lessons. The mats are easy on the back, provide comfort for the knees, and offer maximum stability and comfort due to its non-slip surface grips.
Additionally, the exercise yoga mats are double sided and made of two different textures for personal preferences. Each mat goes over the shoulder, ensuring easy transport, and provides lightweight comfort and ease. The mats are self-strapping and come with a free bonus carry bag.
Customers who have used Nayoya Wellness' merchandise have always been pleased with the company's range of products, technology, and customer service.
"I bought this mat because of the thickness, which helps cushion my body during stretches and workouts as I tend to get back pain flare ups periodically, and I am impressed with the quality," said Alex S. in his Amazon review of the yoga mat. "The thickness of the yoga mat really comes into play as I no longer have knee bruises and lower back pain. This mat is extremely comfortable to lay on and workout on."
Individuals interested in learning more about Nayoya Wellness and its impressive line of gym accessories can visit the company's website for additional information. Visitors can also subscribe to Nayoya Wellness' Facebook, YouTube, and Instagram accounts for the latest updates on new products and solutions.
About Nayoya Wellness:
Nayoya Wellness is committed to providing each customer with the highest standard of customer service. Anyone who is interested in improving his or her quality of life through improved fitness and therapeutic tools is encouraged to visit the Nayoya website where customers will find items such as gym rings, back pain relief sets, cellulite removing massage gloves, lightproof sleep masks and abdominal mats for full range of motion ab workouts. For more information, please visit http://www.nayoya.com