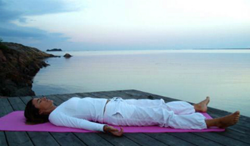 'This was a high beneficial program on yoga nidra by a conscious and compassionate teacher.' - Angeline Galway
San Francisco California (PRWEB) April 09, 2014
This Yoga Nidra course is designed for health care providers and to advance their knowledge and training in the application of Yoga Nidra in a complimentary medicine environment. Nurses and health professionals will use this information to help their patients learn how to deeply relax (through conscious deep relaxation relaxation techniques). For more information, please visit http://www.sivanandayogafarm.org.
Graduates of this course will receive a certificate co-signed by the Sivananda Ashram Yoga Retreat and Dr. Marc Halpern.
Yoga nidra is the art of conscious relaxation. Students will learn techniques which will allow them to reach new states of conscious awareness with acute perception of both their physical and subtle body. As you practice these techniques you will feel the flow of prana move through physical, emotional, and energetic blockages. The end result is the healing of the body and mind and the expansion of consciousness. During this program, students will both experience yoga nidra, and learn how to teach it to others. Upon completion, students will be prepared to offer this service to their community. a certificate co-signed by the Sivananda Ashram Yoga Retreat and Dr. Marc Halpern.
Upon completion of the Yoga Nidra course, graduates will:
Be able to teach Yoga Nidra in group and private settings
Have an understanding of the physiological basis of Yoga Nidra
Have an understanding of the history of Yoga Nidra
Vegetarian, Ayurvedically Prepared Meals will be served daily at 10:00 a.m. and 6:00 p.m.
About Dr. Marc Halpern (Dr. Siva)
Dr. Marc Halpern is the founder and President of the California College of Ayurveda. An internationally respected expert in the field of Ayurveda, Dr. Halpern received the award for Best Ayurvedic Physician from the Indian Minister of Health and Family Welfare, Dr. A. Ramdas. He is a co-founder of the National Ayurvedic Medical Association and the California Association of Ayurvedic Medicine. He is on the advisory board of Light on Ayurveda Journal in the United States and the Journal of Research and Education in Indian Medicine in Varansi, India. Dr. Halpern has published articles in popular journals and magazines of Ayurveda and Yoga including Yoga Journal and the Journal of the International Association of Yoga Therapy. He is also a contributing writer in several important books on Ayurveda published in the USA and India (Globalizing Ayurveda, Ayurveda: Natures Medicine and Clinician's Guide to Complimentary and Alternative Medicine). Dr. Halpern is a regular speaker at Ayurveda and Yoga conferences and teaches regularly at the International Sivananda Yoga Vedanta Centers.
All courses and retreats offered at the center provide a fantastic opportunity to awaken or deepen your yoga practice, meet old and new friends, and to be a part of the global yoga community which is growing each day. The experience provides a great way to find long lasting happiness, peace and the ability to share a yogic lifestyle with others.
In 1971, Swami Vishnudevananda returned to California and founded the third ashram in the young Sivananda International organization: the Sivananda Ashram Yoga Farm on 40 acres of land located in the Gold Country of the beautiful Sierra Nevada Foothills in Northern California. The non-profit, non-sectarian ashram offers yoga classes, retreats and teacher training courses for students of all abilities. The ashram is led by Swami Sitaramananda. For more information, please visit http://www.sivanandayogafarm.org. The ashram also organizes a Sivananda Yoga teacher training course in Vietnam.
"Swami Sivananda of Rishikesh taught Yoga-Vedanta, which came to the West through his many disciples like Satchidananda, Vishnudevananda, Ventakeshananda and Jyotirmayananda. The Sivananda Yoga-Vedanta centers founded by Swami Vishnudevananda teach regular programs on Yoga-Vedanta and with references to Ayurveda as well. I have done many programs with this organization and find it to be the best Yoga training group in the west." - Dr. David Frawley