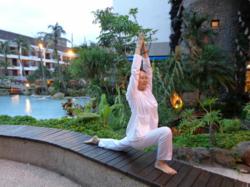 The Yoga for beginners program provides a complete outlook on what the practice of Yoga means.
Montevideo, Uruguay (PRWEB) July 07, 2013
The Yoga For Beginners (yoga para principiantes) program will be offered starting August 7th in Montevideo.
The program is recommended for beginners to Yoga, or those first being introduced to the Sivananda Yoga style. The program consists of four 90-minute classes. The price is $950 pesos.
In this course, participants will embark on a journey into the practice of yoga and start their Yoga practice. This course follows the Five Points of Yoga created by Swami Vishnudevananda for health and inner peace: proper exercise, proper breathing (pranayama), proper relaxation (savasana), proper vegetarian diet, and positive thinking and meditation. Through immersion into the basics of yoga and extensive guided practice and theory studies, students will build their yoga practice on a solid foundation for a stable and joyous practice to last a lifetime.
The Montevideo center sponsors a Yoga teacher training course (entrenamiento de Yoga) in Argentina. During this four-week intensive Yoga course, students will integrate daily Yogic life with their training. This course is uniquely designed to provide a firm foundation from which the student will be able to teach others both intuitively and confidently. The course aims to strengthen a practitioner's own Yoga practice through self-discipline and awareness of the nature of body, mind and spirit.
For more information, please visit http://www.sivananda.org.uy