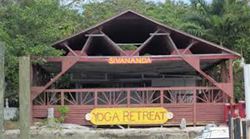 The Permaculture course was a wonderful experience to integrate Yoga and sustainable living.
Bahamas, Caribbean (PRWEB) February 27, 2014
Permaculture (permanent-culture) is a design approach to thinking and living on the planet. For more information, please visit: http://sivanandabahamas.org/course.php?course_id=3893&id=1#m
Permaculture designing and thinking simply asks the question "what does it take for us as humans to live in genuine abundance while also caring for all natural systems and ensuring that there is even more for future generations?"
When taken to heart, this process of conscious and responsible living parallels a very spiritual approach to life.
Bill Wilson, co-founder of Midwest Permaculture and an internationally recognized permaculture teacher and designer, was introduced to permaculture while following his own spiritual journey. He experienced permaculture thinking and designing as a physical world manifestation of a sacred approach to life.
And…regardless of any spiritual connection, permaculture is simply a very scientific and common-sense method of designing livable systems that support life and a genuine sense of community on the planet.
Join Bill as he shares intimate aspects of his journey toward a greater appreciation and connection to life, to others, and to himself.
Bill Wilson is an internationally recognized teacher of permaculture having hosted and taught at over 40 Permaculture Design Certificate (PDC) Courses in just the last 7 years. He is the co-founder of Midwest Permaculture with his wife Rebecca and makes the subject not only easily understandable but brings it alive with possibilities. Bill has delivered 5 PDC Courses at the Sivananda Ashram Yoga Farm in Grass Valley, CA.
Located across the bay from Nassau, on one of the finest beaches in the world, the Sivananda Ashram Yoga Retreat is an island paradise with a tropical garden, crystal clear water and pure white sands - a true sanctuary of peace and natural beauty. Recognized among world Yoga Retreats, the ashram offers year-round programs presented by world renowned speakers, as well as certification courses on various yoga related topics through which you can expand your knowledge, gain a new skill and get certified while enjoying a joyous yoga practice and blissful relaxation. The Yoga retreat center also offers year-round Yoga teacher training programs, Ayurvedic Yoga Therapy Courses, Yoga for beginners, Yoga vacations and many other courses.
For more information, please visit http://www.sivanandabahamas.org.