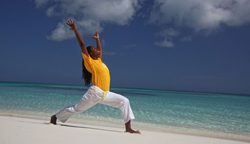 A wonderful course. Don't miss out on this opportunity.
Chicago, Illinois (PRWEB) February 28, 2014
Yoga offers the very best — and much-needed — support to women during pregnancy and prepares them for childbirth and motherhood. It also nurtures the baby in the womb, providing it with an optimum environment from which to emerge. This course offers tools for working professionally, confidently, and sensitively with pregnant women as a Pregnancy Yoga Teacher.
For more information, please visit: http://sivanandabahamas.org/course.php?course_id=4048.
Ravit Schraiber (Omkari), MD, Sivananda Yoga Teacher (RYT-500), is a Family Physician, who has been practicing and teaching yoga for over 15 years. Offering pregnancy yoga courses for several years, as well as offering the benefits of yoga to aid persons suffering from diabetes, hypertension and stress related disorders, Omkari most skillfully combines her medical knowledge with yoga knowledge and skills. She is a pleasant, gentle and most attentive teacher.
Topics of the course include:
Yoga asanas and pranayama practices for pregnancy
Anatomy and physiology of pregnancy
Health considerations
Stages of labor
Pregnancy as an opportunity for spiritual growth
Meditation and chanting
The yoga class as a place for emotional support and community building
Guidelines for the post-natal time
Practice teaching and final practicum
Yoga teachers from all traditions interested in expanding their personal and teaching practice are welcome to join this course.
Located across the bay from Nassau, on one of the finest beaches in the world, the Sivananda Ashram Yoga Retreat is an island paradise with a tropical garden, crystal clear water and pure white sands - a true sanctuary of peace and natural beauty. Recognized among world Yoga Retreats, the ashram offers year-round programs presented by world renowned speakers, as well as certification courses on various yoga related topics through which you can expand your knowledge, gain a new skill and get certified while enjoying a joyous yoga practice and blissful relaxation. The Yoga retreat center also offers year-round Yoga teacher training programs, Ayurvedic Yoga Therapy Courses, Yoga for beginners, Yoga vacations and many other courses.
For more information, please visit http://www.sivanandabahamas.org.