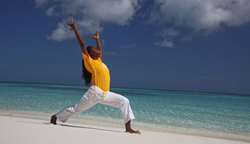 Sacramento, California (PRWEB) March 21, 2014
The course offered by the Yoga retreat provides a solid foundation in the principles of Yoga of Recovery. The certification program will be offered April 30 - May 9, 2014. For more information, visit http://sivanandabahamas.org/course.php?course_id=3917.
Combines Ayurveda and Yoga with traditional recovery tools to offer a more holistic approach to addiction and self-destructive behaviors. For those in counseling roles, the course offers additional tools and a comprehensive approach to wellness, emotional sobriety and sustained spiritual development using ayurveda and yoga as extension therapies to any 12-step work. This course is designed for yoga teachers and health professionals who work with people recovering from addiction, and for people with personal histories or family members with histories of addiction.
Topics of this course include:
Root causes of addiction
Addictive tendencies of the doshic types
The role of Prana in recovery (diet and exercise-Hatha Yoga)
Understanding the gunas
Our spiritual/psychological natures
Four paths of Yoga for those in recovery
Raja Yoga and the 12 steps
Ayurvedic nutrition
The importance of proper daily and seasonal routines
Key recovery tools satsang support - fellowship
Ayurvedic counseling profiles
Detoxification and herbal therapies
This course is open to anyone, but may be of particular interest to therapists, social workers, addiction counselors, sponsors, yoga teachers, Ayurvedic practitioners, health professionals dealing with people who are recovering from addiction, people with family members with addiction and/or histories of addiction. Upon completion of the course students will have the skills to introduce the healing potential of the holistic sciences of Ayurveda and Yoga into their own life and those around.
For those who are already yoga teachers, this course will make the student uniquely qualified and more confident to teach Yoga in rehabilitation centers or to people in recovery from any addiction. Students will fully understand the root of the problem and the holistic approach, extended from limited understanding of substance abuse/behavioral problems to be treated with asana alone, to a full range of therapies for mind, body and spirit from these powerful healing modalities.
Catherine O'Neill (Durga Leela)
Durga (Catherine O'Neill) is a Clinical Ayurvedic and Panchakarma Specialist, trained at the California College of Ayurveda, and in Kerala, India. She is also a Sivananda trained Yoga teacher (RYT-500), extensively trained in meditation and Vedanta. She has been involved with the 12-Step Fellowship for over 8 years and has developed the "Yoga of Recovery" programs and led retreats internationally since then. She is the Director of the Ayurveda Programs at the Yoga Farm in California, and leads several Ayurvedic Retreats at International Sivananda Yoga Ashrams.
Swami Sitaramananda
Swami Sitaramananda is the Director of the Sivananda Ashram Yoga Farm in Grass Valley, California, and a direct disciple of Swami Vishnudevananda. She has many years of experience teaching meditation, Yoga philosophy and positive thinking all over the world. She has authored a Positive Thinking Manual and is an expert in the art of teaching positive thinking and how to deal with the mind and emotions.
Kailash Chaitanya
Kailas Chaitanya is a gentle teacher of Yoga and Meditation, and the assistant director at the Sivananda Ashram Yoga Farm. He is a highly experienced teacher of Hatha Yoga, meditation and Self Knowledge.
Located across the bay from Nassau, on one of the finest beaches in the world, the Sivananda Ashram Yoga Retreat is an island paradise with a tropical garden, crystal clear water and pure white sands - a true sanctuary of peace and natural beauty. Recognized among world Yoga Retreats, the ashram offers year-round programs presented by world renowned speakers, as well as certification courses on various yoga related topics through which you can expand your knowledge, gain a new skill and get certified while enjoying a joyous yoga practice and blissful relaxation. The Yoga retreat center also offers year-round Yoga teacher training programs, Ayurvedic Yoga Therapy Courses, Yoga for beginners, Yoga vacations and many other courses.
For more information, please call 1-866-559-5167 or visit http://www.sivanandabahamas.org.