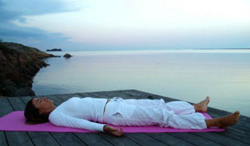 Yoga and Pranayama Retreat
Los Angeles, California (PRWEB) April 23, 2014
"Prana is the universal principal of energy. It is vital force. It is prana that shines in your eyes. It is through the power of prana the senses, the brain and the intellect do their functions. Prana is magnetism, charisma, success. Prana is supplied by food, water, air, solar energy and is absorbed by breathing.
Pranayama is the breathing excercises to control the subtle prana, thus controlling the thought waves. Pranayama removes all sorts of diseases, improves health, energizes digestion, innvigorates the nerves, removes restlessness, improves appetite, creates courage, enthusiasm, vigour, strength and good concentration of mind."

Curriculum
This weekend is dedicated to increasing your vitality and prana (energy) with pranayama and other natural prana enhancing ways of living. Open to all.
There will be also lectures relating prana and states of mind.
Includes yoga classes, vegetarian food and lectures.
Daily Schedule
6-8am Satsang: Silent meditation, chanting and lecture
8-10am Yoga Class
10am Brunch
11am Karma Yoga
1-3pm Pranayama Workshop
3-4pm Free Time and Nature walks
4-6pm Yoga Class
6pm Dinner
7-8pm Free Time
8-10pm Satsang: meditation, chanting and lecture
The Yoga Farm also hosts a Yoga Nidra course, courses on Yogic philosophy, Yoga for back pain and ayurvedic retreats, and an advanced teacher's training course (ATTC). The Advanced Yoga Teacher's Training Course helps graduates to deepen their spiritual practice and their study of Hatha yoga, Vedanta philosophy, Raja yoga, anatomy and Sanskrit. The advanced class gives students an additional chance to practice under guidance in a supportive atmosphere, which provides many with a boost of energy and clarity.
About Sivananda Ashram Yoga Farm
In 1971, Swami Vishnudevananda returned to California and founded the third ashram in the young Sivananda International organization: the Sivananda Ashram Yoga Farm on 40 acres of land located in the Gold Country of the beautiful Sierra Nevada Foothills in Northern California. The non-profit, non-sectarian ashram offers yoga classes, retreats and teacher training courses for students of all abilities. For more information, please visit http://sivanandayogafarm.org.