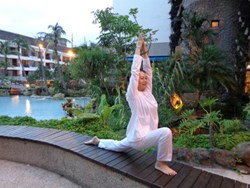 Sacramento, California (PRWEB) October 18, 2013
Deep, refreshing sleep and dreams are the cornerstone of well-being and an essential foundation for spiritual practice. Research has linked sleep problems and dream loss to depression, obesity and other serious illnesses. Based on an integrative, body, mind and spirit approach, this informative and consciousness enhancing program focuses on enhancing sleep and dreaming.
For more information, please visit: http://www.sivanandayogafarm.org/course.php?course_id=1076.
Recommended readings:
1) Healing Night: The Science & Spirit of Sleeping, Dreaming & Awakening
2) The Yoga of Sleep (Soundstrue audio book)
Schedule of Talks
Dr. Rubin Naiman, PhD will present his research at Satsangs at 8:00 pm on Tuesday, Nov. 5th and Wed. Nov. 6th.
Consultations
Dr. Rubin will be available for personal consultations.
(please contact us for price of consults)
Ashram Schedule
6-8am Satsang: Silent meditation, chanting and lecture
8-10am Yoga Class 10am Brunch 11am Karma Yoga
4-6pm Yoga Class
6pm Dinner 7-8pm Free Time
8-10pm Satsang: meditation, chanting and lecture
About Sivananda Ashram Yoga Farm
In 1971, Swami Vishnudevananda returned to California and founded the third ashram in the young Sivananda International organization: the Sivananda Ashram Yoga Farm on 40 acres of land located in the Gold Country of the beautiful Sierra Nevada Foothills in Northern California. The non-profit, non-sectarian ashram offers yoga classes, retreats and teacher training courses for students of all abilities. For more information, please visit sivanandayogafarm.org. A retreat is also offered in meditation vietnam, as well as Yoga Nidra courses.
About Dr. Rubin Naiman
Dr. Rubin Naiman is a psychologist, sleep specialist and clinical assistant professor of medicine at the University of Arizona's Center for Integrative Medicine. He is an internationally recognized expert in integrative and holistic approaches to sleep and dreams. In addition to professional publications, Naiman is author of Healing Night and the audio programs The Yoga of Sleep, To Sleep Tonight, and Healthy Sleep (with Andrew Weil). He also blogs for the Huffington Post and Psychology Today.