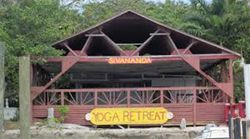 Great program, a must.
Nassau, Bahamas (PRWEB) February 24, 2014
Allow the sacred power of sound to bring students fully alive during two days of high-energy chanting and devotional bliss. Through mantra recitation and ecstatic kirtan, participants will experience the transformative power of sound on the core of the being. For more information, please visit http://www.sivanandabahamas.org.
Russill Paul, a renowned author, musician and teacher, offers an extraordinary musical experience through his live events. Combining years of training in India as monk and yogi with extensive studies in Sanskrit chanting and Indian music in the temple cities of South India, he is considered a leading authority in the sonic applications of Yoga. The author of The Yoga of Sound: Tapping the Hidden Power of Music and Chant and the producer of several best-selling Yoga chant albums, including Shakti: Tantric Embrace, Russill has taught in graduate and post graduate spirituality programs for over 17 years and has presented his work extensively across North America. He now directs his own spirituality programs online through his Yogic Mystery School and leads an annual chanting pilgrimage and retreat to India.
Russill Paul combines ecstatic vocals with electric sitar and synthesizers to create an unusual sound that was best described by music legend Arlo Guthrie:
"The music of Russill Paul is not only distinctive, it is extraordinary and brilliant. His fusion of the sounds of India with the energy and technology of contemporary Western music produces a sound unequaled since George Harrison collaborated with Ravi Shankar in the late 1960's."
Russil Paul will be accompanied by The Bhakti Boys, a duo of devotional musicians from Pennsylvania, who play traditional Indian percussion instruments. Together, they create a compelling Kirtan experience that you'll never want to end.
Located across the bay from Nassau, on one of the finest beaches in the world, the Sivananda Ashram Yoga Retreat is an island paradise with a tropical garden, crystal clear water and pure white sands - a true sanctuary of peace and natural beauty. Recognized among world Yoga Retreats, the ashram offers year-round programs presented by world renowned speakers, as well as certification courses on various yoga related topics through which you can expand your knowledge, gain a new skill and get certified while enjoying a joyous yoga practice and blissful relaxation. The Yoga retreat center also offers year-round Yoga teacher training programs, Ayurvedic Yoga Therapy Courses, Yoga for beginners, Yoga vacations and many other courses.
For more information, please call 1-866-559-5167 or visit http://www.sivanandabahamas.org.