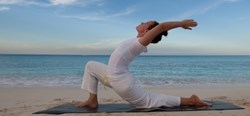 This course was unbelievable. Highly recommended.
Miami, FL (PRWEB) October 21, 2013
Join us for a motivating and inspirational week of workshops exploring links between stress and weight management. Participants of all shapes and sizes are warmly invited to de-stress, explore relationships with food, and engage in exercises that facilitate self-care, introspection and healing. Relax in a tropical paradise and learn practical methods to take home to maintain your successful and healthy lifestyle. Program is presented by Ambika (Katie Papo) and will take place from November 11th-15th in Paradise Island.
Katie Papo (Ambika) designs and leads wellness programs that educate and empower participants to transcend limiting behaviors and adopt healthy lifestyles. Specializing in health and wellness methodology for lasting and effective weight management, Katie promises to guide you beyond "quick fix" methods of weight loss and through a process that achieves lasting results. She has integrated methods from diverse backgrounds and trainings to guide and support all students, regardless of age, physical capability or previous experience. She has devoted herself to teaching hundreds of overweight students in the past two years alone, using holistic systems as an efficient and skillful means for authentic weight management.
Located across the bay from Nassau, on one of the finest beaches in the world, the Sivananda Ashram Yoga Retreat is an island paradise with a tropical garden, crystal clear water and pure white sands - a true sanctuary of peace and natural beauty. Recognized among world Yoga Retreats, the ashram offers year-round programs presented by world renowned speakers, as well as certification courses on various yoga related topics through which you can expand your knowledge, gain a new skill and get certified while enjoying a joyous yoga practice and blissful relaxation. The Yoga retreat center also offers year-round Yoga teacher training programs, Ayurvedic Yoga Therapy Courses, Yoga for beginners, Yoga vacations and many other courses.
For more information, please visit http://www.sivanandabahamas.org or call 1-866-559-5167.