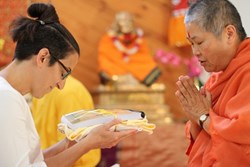 San Francisco, CA (PRWEB) October 16, 2013
Dutch Master artist Pieter Weltevrede brings to the Yoga Farm his outstanding knowledge and talent in the field of painting, and particularly for this workshop, yantra painting. For three days, Pieter leads day long, open workshops on the creation of these ancient North Indian symbols of the Divine. We will learn about the relationship of color and shape to the different energies of Divinity, and utilize this knowledge in the hands-on creation of yantras under his supervision. The classes are open, so students may leave to take asanas if they choose, and return afterwards. For more information, please visit: http://www.sivanandayogafarm.org/course.php?course_id=1029.
Through the practice of painting, and in particular the precision painting required in yantra creation, the mind becomes very focused. As such, yantra painting is a powerful medative tool for quieting the mind while focusing upon the Divine, helping to bring the painter nearer to their deeper Self.
About Sivananda Ashram Yoga Farm
In 1971, Swami Vishnudevananda returned to California and founded the third ashram in the young Sivananda International organization: the Sivananda Ashram Yoga Farm on 40 acres of land located in the Gold Country of the beautiful Sierra Nevada Foothills in Northern California. The non-profit, non-sectarian ashram offers yoga classes, retreats and teacher training courses for students of all abilities. For more information, please visit sivanandayogafarm.org. A retreat is also offered in meditation Vietnam, as well as Yoga Nidra courses.
Registration for the program is currently open. For more details, please visit http://www.sivanandayogafarm.org or call (530) 272-9322/(800)469-9642.