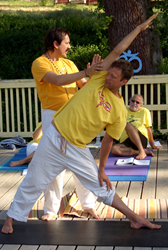 Yoga Farm Thanksgiving Retreat
Sacramento, CA (PRWEB) April 24, 2014
The Sivananda Yoga Farm has announced today the program, which will take place Wednesday, November 26—Sunday, November 30, 2014.
Yoga is union between inner and outer reality, pursuing the path of truth through seflessness, compassion, dharma, non violence, unity in diversity, love of humanity as one's self, and through action in the world and out of the world . Swami Sivananda says that love is service and sacrifice. In this unique weekend, we will hear refreshing dynamic teachers of peace sharing their spiritual activism journeys and visions in the chaotic world, bringing hopes and clarity. For more information, please visit http://sivanandayogafarm.org.
About Edwin F. Bryant (Adwaita das)
Edwin Bryant received his Ph.D in Indic languages and Cultures from Columbia University. He taught Hinduism at Harvard University for three years, and is presently the professor of Hinduism at Rutgers University where he teaches courses on Hindu philosophy and religion. He has received numerous awards and fellowships, published six books and authored a number of articles on Vedic history, yoga, and the Krishna tradition. In addition to his academic work for the scholarly community, Edwin's Penguin World Classics translation of the Srimad Bhagavata Purana, the traditional source for the story of Krishna's incarnation, is both for Indology specialists as well as students and those interested in Hinduism from the general reading public and the yoga community.
About Dr. Elaine Valdov
Dr. Elaine Valdov, a representative to the United Nations, is a peace and human rights activist, conflict resolution specialist, and the Founder of Yoga Peace Ambassadors and Yogis Without Borders. Dr. Valdov lectures internationally and is best known for her championship of causes and creation of peace and development initiatives for the UN Millennium Development Goals and the UN "International Decade for a Culture of Peace and Non-Violence for the Children of the World." She has held many NGO positions at the United Nations, including Chair of the Executive Committee of Non Government Organizations Affiliated with the United Nations DPI and others. She is currently a practicing psychotherapist in New York City and a professional coach focusing on "Finding Your Role in Creating a Culture of Peace."
About Narayan
Narayan took TTC in October 2008. He served as staff in San Francisco Center for one year, before taking ATTC in 2010. He now is director of the SF Center overseeing a residential program of 8-10 residents. The SF Center prides itself on being an ashram within the city.
The Yoga Farm also hosts a Yoga Nidra course, courses on Yogic philosophy, Yoga for back pain and ayurvedic retreats, and an advanced teacher's training course (ATTC). The Advanced Yoga Teacher's Training Course helps graduates to deepen their spiritual practice and their study of Hatha yoga, Vedanta philosophy, Raja yoga, anatomy and Sanskrit. The advanced class gives students an additional chance to practice under guidance in a supportive atmosphere, which provides many with a boost of energy and clarity.
About Sivananda Ashram Yoga Farm
In 1971, Swami Vishnudevananda returned to California and founded the third ashram in the young Sivananda International organization: the Sivananda Ashram Yoga Farm on 40 acres of land located in the Gold Country of the beautiful Sierra Nevada Foothills in Northern California. The non-profit, non-sectarian ashram offers yoga classes, retreats and teacher training courses for students of all abilities. For more information, please visit http://sivanandayogafarm.org.