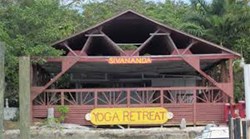 Paradise Island, Bahamas (PRWEB) February 19, 2014
The Yoga Psychology and the Transformation of Emotions such as fear, anxiety, depression will be offered February 27 - March 2, 2014. For more information, please visit http://www.sivanandabahamas.org/course.php?course_id=3816.
Dr. Krishnamurthy will introduce the basic concepts of yoga psychology, following the work of Patanjali and others. She will also discuss her own work on the psychology of transformation, in particular, methods of transforming negative emotions into positive ones.
We will further take up the subject of planetary evolution in terms of Aurobindo's philosophy and discuss how to develop the four supreme positive emotions.
Dr. Uma Krishnamurthy has been exposed to spiritual teachers and yoga philosophy from early childhood. She is a psychiatrist by training and has many years of experience in the fields of healing, yoga psychology, and transformation of emotions that are currently her main areas of interest and research. She is the author of an upcoming book on Yoga Psychology. She regularly conducts workshops at the Yoga Biomedical Trust in London, at Sivananda Yoga and Vedanta Centers worldwide, and at Krotona Theosophical Society, Ojai, California. Dr. Krishnamurthy has also received formal training in classical Indian dance. Her research on the similarities of yoga and classical Indian dance has received much acclaim.
Located across the bay from Nassau, on one of the finest beaches in the world, the Sivananda Ashram Yoga Retreat is an island paradise with a tropical garden, crystal clear water and pure white sands - a true sanctuary of peace and natural beauty. Recognized among world Yoga Retreats, the ashram offers year-round programs presented by world renowned speakers, as well as certification courses on various yoga related topics through which you can expand your knowledge, gain a new skill and get certified while enjoying a joyous yoga practice and blissful relaxation. The Yoga retreat center also offers year-round Yoga teacher training programs, Ayurvedic Yoga Therapy Courses, Yoga for beginners, Yoga vacations and many other courses.