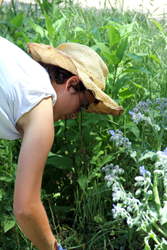 If the student is taught that fundamentally he is one with all his brethren all over the world, we would effectively sow the seeds of peace and harmony, and not until then. - Swami Sivananda.
Sacramento, California (PRWEB) March 25, 2014
The ecological knowledge that is crucial to the survival of humanity in this century is not only emerging from contemporary science, but is also an integral part of traditional wisdom in many cultures around the world, including the ancient Vedic tradition of India. For more information, please visit: http://www.yogafarm.org/course/1087.
The path to living in harmony with Earth begins, not with fixing the environment, but with fixing ourselves — specifically the perceptions about Earth. The environmental and social problems (e.g., climate change, species extinction, environmentally linked cancers, genocide, deforestation) are rooted in separation — between the population and the environment. Citizens need to see everything: Earth, cosmos, sun, worms, bees, as well as each other with "new eyes."
This course will explore how students can connect modern ecology and environmental activism with this ancient Vedic tradition in a way that inspires contemplation and action. Participants will study some of the ancient Vedic texts, especially the "Earth Verses" of the Atharva veda as well as contemporary teachings in spiritual ecology from many different traditions.
Finally, participants will explore how we can each become part of a Sacred Earth community, by reminding ourselves of the ecological truth that we are a part of, not apart from, the Earth.
'Spiritual traditions are the deepest repositories of a culture's knowledge of the ancient bond between the person and the planet, the soul and the soil.'
Daily Schedule
6-8 a.m. Satsang: Silent meditation, chanting and Vedic Ecology lecture
8-10 a.m. Open yoga class
10 a.m. Brunch
11 a.m. Karma Yoga
12.30-3 p.m. Vedic Ecology session
3-4 p.m. Free time and nature walks
4-6 p.m. Open yoga class
6 p.m. Dinner
7-8 p.m. Free time
8-10 p.m. Satsang: meditation, chanting and presentation
About Swami Omkarananda
Swami Omkarananda is a radiant Yogini renunciate who has more than 20 years of experience in yoga and meditation. She is the current director of the Sivananda Los Angeles Yoga Center and was assistant director at the Sivananda Ashram Yoga Farm for many years. She had a medical background in England and hails from Australia originally. She earned her Certificate in Permaculture Design and Advanced Permaculture from Mid West Permaculture and is now passionate about bringing yoga and the environment together at this exciting time of transition. Her practical lectures are about yoga philosophy, Vedanta and how to deal with emotions and mind in times of transition. http://www.sivanandayogafarm.org/our_teachers
About Sivananda Ashram Yoga Farm
In 1971, Swami Vishnudevananda returned to California and founded the third ashram in the young Sivananda International organization: the Sivananda Ashram Yoga Farm on 40 acres of land located in the Gold Country of the beautiful Sierra Nevada Foothills in Northern California. The non-profit, non-sectarian ashram offers yoga classes, retreats and teacher training courses for students of all abilities. For more information, please visit http://www.sivanandayogafarm.org.