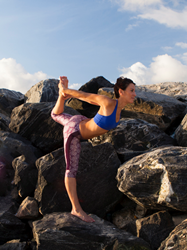 Miami, Florida (PRWEB) December 10, 2013
Record numbers of people have been wearing yoga and fitness clothing around town in recent years. Not just back and forth from the gym or before and after jogging either--they are wearing it inside and out because it's comfortable, stylish, and easy to care for. Fitness wear is perfectly suitable for the busy, active lifestyle of American men and women. Spacecat's new fall and winter collection is now available on its web store, with sexy but elegant designs so fashionable that they're not just for the gym.
The versatile and innovative Reversible Backless Top is made with Spacecat's favorite soft cotton-like but fast moisture-wicking, high-performing Supplex/Lycra fabrics and comes in four colors: Red, Royal Aubergine, and Jade with an alternate black side to add variety for coordination. Also added to this collection is a new beautiful Halter Bra with an elegant and clean line at the back, its wider shoulder strap comfortable for the shoulders and offering medium support for larger breasts.
The new bottom is the Side Mesh Capri Pant, with mesh panels on the side to keep your legs cooler while working out. The colored mesh reveals just a glimpse of skin, offering a hint of sexiness. It comes in variety of materials and colors: Basic Black is a must have, along with Royal Blue in soft Supplex/Lycra fabric. The Pearl Snake print is shimmery and stylish--especially since snake skin print was big on runway this fall--and the Deco print is fun and happy. Both printed fabrics are made of lightweight Nylon/spandex, super fast-drying materials often use for swimsuits. Spacecat's signature Koko shorts line is adding new fall colors: Red, Royal, Pearl Snake and Deco, for easy coordination.
The fitness wear industry is getting more fun, tasteful and fashionable, and more colorful ready-to-wear and with new styles and materials. Today, large chain stores like GAP, Forever 21 and Victoria Secret, for example, offer their own lines of workout wear. Target and Walmart keep separate active wear sections for men, women, and children. Macy's is expanding from 160 to 400 active wear labels. Adidas contracts with Stella McCartney to offer high fashion athletic wear for a wide variety of sports. Calvin Klein and Ralph Lauren, who started with casual wear, are now adding lines of workout wear. Vera Wang is pursuing her passion and now designs skating wear along with her wedding collections. Getting fit and leading a healthy lifestyle is not just for young city dwellers but for Americans of all ages and locations.
About Spacecat:
Designer Yumi Miyanishi of Spacecat, a dedicated practitioner of Hatha Yoga and a tennis player, understands how women move. With her New York City fashion background, she creates well-fitting active wear with exciting colors and style. She continues her research for high-performance textiles that maintain softness. She is working on adding lighter materials and using recycled yarn to create a better moisture-wicking and faster drying textile for the next season.
Spacecat supports local businesses. All Spacecat garments are proudly made locally where designer Yumi Miyanishi currently resides, in Miami, U.S.A.