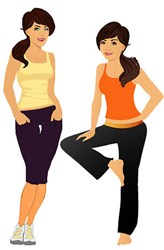 Bacteria and viruses grow in warm, moist environments and can survive on inanimate objects. Yoga mats and studios are the perfect breeding ground for these germs.
Los Angeles, CA (PRWEB) August 06, 2013
Entrepreneurial twin sisters, Ashley and Alysha Cintas love what they accomplish from yoga-mind, body, and soul. They did not, however, enjoy the time and effort it took to deodorize and disinfect their mat and towels.
With Ashley's background in business and Alysha's background in design, they created a ''kosha.'' Kosha derives from the Hindu philosophy of layers or sheaths composing the personal self. Inspired by this belief, Ashley and Alysha's solution…invent an antibacterial and machine washable 'sheath' for yoga mats. According to the twins, when leaving the studio the focus should be on the yogi, not on their smelly accessories.
Kosha covers are simple. The cover fully encloses the mat, like a pillow case, eliminating the need to clean or buy a new yoga mat. A zipper around the perimeter also eases the insertion and removal of the mat.
The fabric created by the twins for the Kosha covers is innovative, eco-friendly and provides a non-slip surface during yoga. Additionally, the odor free material is also anti-bacterial; therefore it protects fitness enthusiasts' face, feet, and body from getting infections commonly found on mats, such as staph and athletes foot.
Ashley and Alysha not only created reusable covers for yoga mats, but also yoga mat bags and yoga totes made with the unique Kosha properties, including bamboo. ''We believe Kosha products make life easier by decreasing after-class cleaning while, increasing the durability of yoga mats and accessories,'' said Ashley. ''Kosha covers are great for all types of yoga; hot yoga, power yoga, and outdoor yoga,'' added Alysha.
A Kosha cover may be purchased individually, or an attachable Kosha yoga mat bag, which snaps on the back of the cover for easy ''Roll and Go'' transportation is also available.
Founded in 2011, after years of research and development, Kosha was the first company to create covers for the yoga industry. The twins' mission for Kosha was to make a sustainable cover that eliminates the process of cleaning yoga mats and accessories.
Kosha: sweat absorbent, non-slip, ecofriendly, anti-bacterial, and machine washer and dryer safe.
For information, visit http://www.KoshaCovers.com or contact Ashley(at)koshacovers(dot)com for a demonstration.