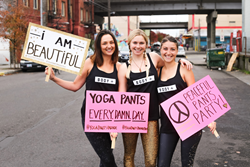 "We're big believers in exercise and yoga and helping people feel confident about their bodies" - Kyla Smith, Evolve Fit Wear founder.
Portland, Ore. (PRWEB) October 27, 2016
This Friday, October 28, Evolve Fit Wear will host the Yoga Pants Parade PDX to support the movement that originated in Barrington, RI. The local online activewear retailer plans to send a message of body positivity to all genders, shapes, sizes, ages, ethnicities and sexualities to feel comfortable and proud to wear whichever style of yoga pants they love.
The original parade in Barrington last Sunday protested Alan Sorrentino, a male resident who stated that women over 20 years old should not wear yoga pants in public. Over 300 women in the small coastal town marched through the streets and past his house, wearing their beloved yoga pants and trending on the #yogapantsparade.
"We're big believers in exercise and yoga, but we're bigger believers in helping people feel confident about their bodies," said Kyla Smith, Evolve Fit Wear founder. "Portland is the perfect community for this movement to grow, and we hope everyone will make stop by and show their support."
Rain or shine, the Yoga Pants Parade PDX will start at 11:00 a.m. at Evolve Fit Wear headquarters, located at 222 SE Alder St. Portland, OR 97214. Supporters will be able to create signs, share photos on social using the #yogapantsparadePDX, and prep for the parade with snacks and coffee until 12:00 p.m. when the group will begin its 2-mile route across the city. The route will cross Morrison Bridge, continue down Park Avenue, Burnside Crossing and the Burnside Bridge, until making its way back to Evolve's headquarters down Martin Luther King Blvd.
Evolve Fit Wear will then host a free hour-long yoga class in its product warehouse taught by Sylor Powell and Chelsii Gregory of Core Power Yoga, followed by celebratory snacks and beverages, including kombucha and beer, as well as a complimentary photo booth for all participants.
After decades of men and women attempting to shape their bodies to an unattainable dimensions, the American society has made admirable leaps to genuinely encouraging a healthy, holistic approach to fitness. Evolve Fit Wear, and many local and national businesses who plan to support the parade, believe everyone should celebrate their bodies and be confident in their skin, or yoga pants, whether exercising or strutting down the street.
About Evolve Fit Wear
Founded in 2008, Evolve Fit Wear is an online activewear retailer featuring versatile workout clothing that you won't just work out in, but you'll want to spend the rest of your day in. The retailer carries over 60 brands, supplying clothing, swimwear, yoga mats, jewelry, and accessories. Headquartered in Portland, Oregon, Evolve Fit Wear is driven by the passion and creativity of its yoga-loving, activewear-donning, hike-pursuing squad to assist consumers in their hunt for workout clothes that make them feel awesome, energetic and motivated, without breaking the bank. Visit evolvefitwear.com/yoga-pants-parade or @evolvefitwear to find out more. For photos and additional press material, please click this link.