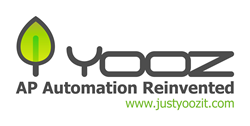 "Having a single, cloud-based platform that gives us instant visibility, cuts down on processing time and lets us lock in valuable rebates is a true game-changer," said Giovanna Koning, CFO of Falcon Holdings.
DALLAS/FORT WORTH and NEW ORLEANS (PRWEB) July 28, 2015
Yooz, the cloud service that lets businesses streamline their accounts payable (AP) workflow, today announced that its roster of US enterprise clients is growing rapidly, helping more and more companies save time and money by bringing end-to­-end intelligence to the AP process. This month, Yooz welcomed Falcon Holdings as its newest customer, which will streamline AP automation in the cloud at more than 250 franchise restaurants across nine states.
"AP automation has clearly come into its own in 2015 as more and more businesses realize how much money and time they can save. A cloud-based service like Yooz is the perfect platform to modernize an organization's financial workflow across many locations and even across multiple brands in a snap," said Matt Williams, CEO, Yooz North America. Businesses are invited to meet and demo Yooz during the Sage Summit 2015, booth #447. Globally, nearly 200 Yooz customers are Sage users.
"We were surprised how simple, seamless and efficient it was to get started with accounts payable automation with Yooz," said Giovanna Koning, CFO of Falcon Holdings. "As a leading franchise organization we have to process invoices from more than 250 restaurants across nine states. Having a single, cloud-based platform that gives us instant visibility, cuts down on processing time and lets us lock in valuable rebates is a true game-changer. Yooz convinced us with its easy implementation, set-up and a quick ROI."
Yooz lets enterprises automate how they capture and approve invoices and purchasing orders and lets them initiate payments in an easy, seamless and transparent way. As a pure cloud-based service with no upfront investment in new hardware or software, Yooz is the most cost-effective and efficient way to capture all relevant documents.
Yooz has found an enthusiastic uptake in the hospitality, healthcare and automotive industries, providing geographically spread-out, decentralized organizations with instant visibility of their financial workflow and quick and easy on-boarding of new locations.
Aimbridge Hospitality, one of the nation's leading independent hotel investment and management firms, is deploying Yooz to streamline its travel and expense (T&E) workflow for employees. Another new customer is OnPointe, a family of companies that provide patient-centered post-hospital services in New Mexico, Texas and Colorado. Earlier this year, CDK Global, the largest global provider of integrated information technology and digital marketing solutions to the automotive retail industry, chose Yooz to let thousands of dealerships using the CDK Drive Dealer Management System automate the time-consuming process of manually entering and processing hundreds of thousands of invoices annually and expedite e­-payments.
"Yooz is an end-to-end solution that offers up to 70 percent in savings and produces an immediate and tangible impact on the bottom line. But our customers are even more successful when they can tap into our growing network of partners in the financial services and accounting space," said Williams. He pointed to partners like NvoicePay, the leader in simple B2B e-payments, and Intacct, a leading provider of cloud financial management and accounting software. Integrating with a partner's service enables companies to further streamline their accounts payable workflow from purchase to payment, all within a cloud financial platform.
About Yooz:
Yooz brings intelligence to AP automation. It is designed and built for the era of cloud computing, empowering SMEs to streamline their financial workflow in order to save time and money. Yooz was initially developed and launched by ITESOFT, a European company that has for more than 30 years been a leader in intelligent document capture and process automation. Yooz is now an independent company within ITESOFT-Yooz Group and has more than 1,300 customers. For more information, visit http://www.justyoozit.com and follow us @justyoozit.
About Falcon Holdings:
Falcon Holdings Management, LLC is a professional management company providing operational expertise and administrative services to a wide range of companies. They are also a multi-unit operator in 13 states and operate Church's Chicken, Hardee's, Long John Silver's, and A&W restaurants. The company was founded in 1999 and is based in Westlake, Texas. Owner Aslam Khan, who has recently been recognized by the International Franchise Organization (IFA) as 2015 Entrepreneur of the Year, builds profitability through training and technology-driven controls for his business and its clients.