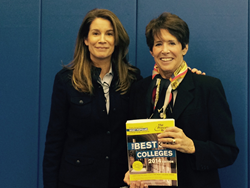 The biggest danger with starting kids too early with the college prep test-taking process is in burning them out.
New York, NY (PRWEB) January 30, 2015
York Prep, a co-educational New York City private school on the Upper West Side, recently hosted an orientation session for parents of freshmen and sophomore students to help them prepare for the rigorous and often daunting college application process. York Prep's co-directors of college guidance, Jayme Stewart and Janet Rooney, led the program.
Stewart is the longest-serving college guidance director at a Manhattan private school and is also co-founder of York Prep. Stewart wrote the well-received college preparation guidebook, How to Get Into the College of Your Choice: And How to Finance It, which serves as a comprehensive planner for students to help them manage their time when applying to colleges.
"The biggest danger with starting kids too early with the college prep test-taking process is in burning them out," Stewart gently explained to a parent who had asked when exactly she should get her child started on practice tests. "We want to give you the information you'll need to make the right decisions without overwhelming you or your students."
York Prep's college guidance program is designed to prepare students for college application success, starting with a basic understanding of how best to use summer vacations, how to approach standardized tests, advice about connecting to important resources (such as financial aid consultants) and more.
Students receive personalized education at York Prep with a five-to-one student-to-teacher ratio. The school offers access two college guidance professionals who give individual attention to approximately 60 students in their junior year, affording them face time with each student. Advanced courses and resources to get extra help are available to students with the York Prep Scholars Program, which invites students to pursue a diploma with honors, and with the Jump Start Program, which provides students with individualized assistance to help their studying skills up to speed in morning and afternoon sessions.
York Prep offers a specialized course for juniors to work with the college guidance counselors once a week, where they work on completing the Common Application together. The school also holds a fun class-wide personal essay contest with a cash prize of $95 to the winner to cover the cost of the common application. During the college prep course, students are also expected to make a list of colleges that are best suited to meet their intellectual and social needs, in addition to their career aspirations.
"York Prep's college prep program mitigates stress for students by setting deadlines and providing guidance early on," explained Stewart. "Most students have completed their college application by the end of junior year and are in good shape when senior year rolls around."
Stewart advised against taking college visits freshman or sophomore year, before parents and school faculty know what the junior and senior transcript will look like or have standardized test scores. She also emphasized the importance of having students take the drivers' seat in what kind of college experience they'd like to seek and what kind of career path they'd like to venture down.
"I'm excited now," commented one parent, upon leaving the orientation session, "I'd thought I'd be nervous, but now I'm looking forward to the process."
Please visit http://www.yorkprep.org for more information about York Prep and its programs. The next open house is Tuesday, April 21, 2015. Please register to attend an Open House by calling (212) 362-0400 or emailing jcurrent(at)yorkprep(dot)org.
About York Prep
York Prep is a New York City private school on the Upper West Side, which was founded in 1969 by Ronald P. Stewart, a former barrister, and his wife, Jayme Stewart, author of "How to Get into the College of Your Choice: And How to Finance it." York Prep provides about 350 middle school and high school students, grades six through 12, with a rigorous college prep curriculum that is tailored to meet students' individual needs and play to their strengths. The school also has a thriving performance and visual arts program, boasts a strong athletic department and offers a wide array of student-driven clubs and extracurricular activities. Thanks to a tried and true college preparation strategy, 100 percent of York's students pursue higher education.