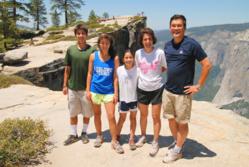 I strongly believe our children are our future. If we teach them well, they will lead the way." -John P. DeGrazio
Yosemite National Park, CA (PRWEB) July 09, 2013
July is National Make a Difference to Children Month, and an effective way to positively influence young people is with an experience in an outdoor environment. YExplore, a tour company that provides guided family activities in Yosemite National Park, continually encourages children to explore nature. Recent studies by several groups including the American Hiking Society have listed countless health benefits of hiking. Further, family time in a natural setting has shown to vastly improve family dynamics that aid parents and children alike.
With nearly a decade of in-the-field data to analyze, YExplore founder and lead adventure guide, John DeGrazio shares encouraging results from his research. "A day on the trails provides so many physical and mental health advantages for children. Walking will immediately provide improved cardiorespiratory and muscular fitness. Add in the spectacular scenery of a place like Yosemite National Park, and an improved state of mind is inevitable." Hiking also promotes better bone health with a decreased risk of developing heart disease, high blood pressure, type 2 diabetes, and becoming overweight or obese. DeGrazio also states "Cardio exercises reduce stress and depression which is important even for elementary students. Nothing beats an active national park vacation after a stressful school year."
Most youth thrive in an outdoor environment when given the opportunity. Parents are often surprised by how well their children acclimate. "The best thing a parent can do is avoid underestimating their child's ability to adapt," DeGrazio states. "I have witnessed countless transformations where a young person is able to discover a new identity while completing a challenging hike. Sometimes it's the daughter whose parents warned she wanted to be anywhere but on the trail. It's truly wonderful to see that light shine, and the most rewarding aspect of my profession is to know that I helped encourage them in some way."
Children are also beneficiaries of an improved mood by their parents on excursions into the great outdoors when moms and dads experience reduced stress while enjoying enriching family time outside. A quality excursion will boost the mental state of every family member and can be a valuable form of anger management that could play a major role in reducing violent behavior toward children.
Additionally, outdoor activities afford adolescents and teens an opportunity to gain valuable independence by unplugging from their increasingly technological world. This can also be achieved by encouraging selective use of the technology instead of negatively dismissing the value children place on it. DeGrazio feels engagement is the key. "I've witnessed many teenagers attached to their cellphones at the start of a tour, only to find their way into shorts pockets as the level of engagement increases. Young people react very well to outdoor stimuli, and another way to engage them is to encourage them to use their phones to make beautiful nature photographs."
Understanding that not every child has the opportunity to share family experiences in nature, YExplore has established a free outreach program for disadvantaged youth to learn about the natural history of Yosemite and develop photography skills. It is Mr. DeGrazio's goal to welcome children of every background to enjoy a positive Yosemite experience. "Natural places like Yosemite should be considered safe havens. They are lands of self discovery and incubators of ideas that can help shape the lives of young people. We strongly encourage any groups that work with underprivileged youth to contact us and enroll in one of our programs that we are confident will make a positive difference in their lives."
About YExplore
Founded in 2006, YExplore Yosemite Adventures is the only Yosemite Tour Company that offers custom guided Yosemite experiences (Adventure Hikes, Half Dome Hikes, Multi Day Backpack Trips, Nature Walks, Birding Walks, Wildflower Walks, Snowshoe Hikes and Photography Workshops) 12 months a year. Their mission is to encourage park visitors to connect with the natural world of Yosemite through outdoor experiences that deliver unique photographic opportunities and lasting memories. YExplore is a socially responsible company providing educational services that follow Leave No Trace principles to minimize their impact in nature to ensure that the ecology of the park will not be compromised. John DeGrazio is the company's founder and continues to lead Yosemite trips with visitors from across the globe.