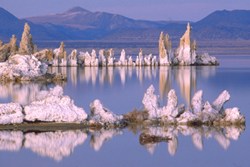 During these workshops at Mono Lake and other areas of the dramatic Eastern Sierra, Phil will teach you techniques he has learned during more than 20 years of photographing all types of natural landscapes.
Yosemite National Park, CA (PRWEB) August 15, 2013
YExplore, a leading provider of photography workshops in Yosemite National Park and the Sierra Nevada is offering an opportunity to join National Geographic photographer Phil Schermeister for intensive one and two day workshops in one of the most iconic and dramatic settings for landscape photography in North America: Mono Lake and the spectacular East Side of California's Sierra Nevada Mountains.
Phil Schermeister has completed dozens of major natural history photo assignments for the National Geographic Society from the grasslands of the windswept Dakotas to Mexico's remote Copper Canyon and has been photographing the unique geologic features of the Sierra Nevada's East Side for more than 15 years. National Geographic has published six of his single-photographer books including "Range of Light" which highlights the natural beauty of the Sierra Nevada Mountains. Each participant will get a signed copy of one of Phil's National Geographic books.
During these workshops at Mono Lake and other areas of the dramatic Eastern Sierra, Phil will teach you techniques he has learned during more than 20 years of photographing all types of natural landscapes. He'll open his camera bag and share the tools he uses to consistently get exceptional images under any conditions while on assignment. You'll learn how to respond to the unique geological features we encounter and make the most of changing weather to get the best possible pictures in all of the spectacular settings we visit. We'll photograph the surreal monolithic tufa towers of calcified rock at Mono Lake, the spectacular wall of the Eastern Sierra Nevada as well as aspen-lined canyons and rushing streams then pay a visit to Bodie; one of the most scenic and best-preserved ghost towns in America. The small size of these workshops allows Phil to give maximum attention to each participant.
The Mono Lake Masters Photographic Workshops are designed to help beginners get started and intermediate or advanced students to sharpen their vision and expand their creative thinking. Some of the skills you'll master include understanding and adjusting camera settings for optimum results, bracketing, depth of field, correct exposure in all conditions, correct color temperature, use of various filters, composition and use of color and form. On and off camera flash as well as other artificial lighting techniques will be discussed. Beyond equipment, Phil will discuss and teach important intangible skills needed for consistently good photography including how to identify your own "personal vision" and how to "break the rules" to create unique images. We will be photographing sunrises, sunsets, sweeping vistas, clouds, water reflections and more. Phil will give students exercises to put into practice the techniques they learn. He will review students work in the field as they photograph and discuss digital workflow and the processing of digital pictures. You'll leave with great pictures and most importantly, the skills to see and create better pictures well beyond the workshop.
About YExplore
Founded in 2006, YExplore Yosemite Adventures is the only Yosemite Tour Company offering custom guided experiences (Adventure Hikes, Half Dome Hikes, Multi Day Backpack Trips, Nature Walks, Birding Walks, Wildflower Walks, Snowshoe Hikes and Photography Workshops) 12 months a year. Their mission is to encourage park visitors to connect with the natural world of Yosemite through outdoor experiences that deliver unique photographic opportunities and lasting memories. YExplore is a socially responsible company providing educational services that follow Leave No Trace principles to minimize their impact in nature to ensure that the ecology of the park will not be compromised. John P. DeGrazio is the company's founder and continues to lead Yosemite trips with visitors of all ages and nationalities. Phil Schermeister is a professional National Geographic photographer who will be leading photo workshops in Yosemite and the Eastern Sierra Nevada.