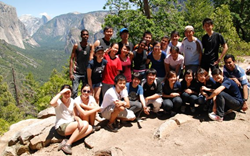 Once that light goes on, it shines brightly, and they become giants.
Yosemite National Park, CA (PRWEB) March 11, 2014
Several studies have recently shown the positive effects of spending time outdoors. With results like improved physical and mental health, many experts in the field of education have concluded that children and young adults need the outdoors, and pioneers like Jon Young and Richard Louv have spearheaded a movement to establish wilderness classrooms. YExplore, an adventure company in Yosemite National Park, utilizes open spaces as ideal settings for educational programs they are now offering to school groups and families who wish to maximize the potential of their students.
America's National Parks are perfect labs for outdoor education. Student groups and parents have discovered the importance of wilderness experiences in shaping the lives of young people. Physical developments such as increased muscle strength and cardiorespiratory fitness improvements are obvious benefits along with the reduction of cholesterol levels and risks for heart disease. Weight loss and weight control are also advantages of spending extended periods of time in the backcountry. New studies also show that spending as little as one week in the wilderness can reset one's biological clock while synchronizing melatonin hormones with sunrise and sunset.
From a mental health standpoint, the advantages of nature excursions are limitless. Levels of self confidence skyrocket with every successful adventure. Development of leadership skills accompany heightened senses and increased creativity. Many underserved youth often find their true selves when removed from their urban environs and immersed in the wild for the first time.
John P. DeGrazio is the owner and lead adventure guide for YExplore, an outdoor tour company based in Yosemite. He encourages children and young adults to experience the natural world through several programs his company offers including Yosemite family hikes, school group outings, and backpacking trips. "I have witnessed many transformations on these trails," he professes. "My favorite moments are watching young people find their inner confidence and really take that momentous leap forward in their development. Just the other day I was able to witness it from my own daughter on a challenging trail. Once that light goes on, it shines brightly, and they become giants." Popular programs are offered spring through fall.
About YExplore
Founded in 2006, YExplore Yosemite Adventures is the only Yosemite Tour Company offering custom guided experiences (Adventure Hikes, Half Dome Hikes, Multi Day Backpack Trips, Nature Walks, Birding Walks, Wildflower Walks, Snowshoe Hikes and Photography Workshops) 12 months a year. Their mission is to encourage travelers of all ages to get outside and make a connection with nature and wilderness through educational outdoor adventures that inspire personal growth while developing a deeper understanding of conservation and stewardship. They are a socially responsible company that implements Leave No Trace principles on every outing to minimize their impact in nature and ensure that the ecology of the region will not be compromised. John P. DeGrazio is the company's founder and continues to lead Yosemite trips with visitors of all ages from around the world.