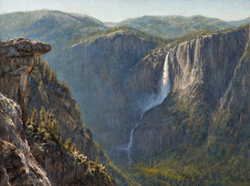 Yosemite National Park, CA (PRWEB) March 27, 2014
Yosemite National Park has received several storms over the past few weeks that have dramatically improved the flow of the park's famous waterfalls. More storms are expected in the coming days which is welcome news after such a dry warm winter. Waterfalls like Bridalveil, Vernal, Nevada, and Yosemite Falls have all seen dramatic increases in their flow recently thanks to these storms. Because of the rising volume and relatively mild winter, many travelers have been visiting Yosemite during the early months of the year. John P. DeGrazio, owner and founder of YExplore, a tour company offering guided Yosemite hikes and workshops, has seen an increase in visitation in 2014. "Yosemite travelers are savvy. There is a segment of the population that strategically time their visit for popular events like the spring waterfall runoff. February had Horsetail Fall. The moonbows will begin in spring, and everyone knows all the waterfalls will peak early this year so many have adjusted their vacation schedules."
YExplore offers several different Yosemite photography workshops that highlight the waterfalls' Rainbows and Reflections throughout early spring. These workshops are led by veteran professional Yosemite photographers who share their insights and techniques with photo enthusiasts in a setting made famous by Carleton Watkins and Ansel Adams. These workshops are open to the public and participants may enroll in classes with custom and privacy options.
Another set of workshops offered by the outdoor tour leader is the Yosemite Twin Valleys Waterfall workshops including an "Art Shaped the National Parks" painting workshop with award winning artist, James McGrew. This class is offered May 2-4 with limited enrollment, but spaces are available. Joining James will be a faculty of local Yosemite photographers who will be teaching waterfall photo workshops the first week of May. Photographers will have the opportunity to visit many of the famous Yosemite Valley waterfalls as well as a couple lesser known cascades in Hetch Hetchy. This series of workshops is an officially sanctioned Yosemite 150th Year Anniversary Event and will include a free evening slideshow presentation on Friday May 2 in Yosemite Valley presented by James McGrew.
About YExplore
Founded in 2006, YExplore Yosemite Adventures is the only Yosemite Tour Company offering custom guided experiences (Adventure Hikes, Half Dome Hikes, Multi Day Backpack Trips, Nature Walks, Birding Walks, Wildflower Walks, Snowshoe Hikes and Photography Workshops) 12 months a year. Their mission is to encourage travelers of all ages to get outside and make a connection with nature and wilderness through educational outdoor adventures that inspire personal growth while developing a deeper understanding of conservation and stewardship. They are a socially responsible company that implements Leave No Trace principles on every outing to minimize their impact in nature and ensure that the ecology of the region will not be compromised. John P. DeGrazio is the company's founder and continues to lead Yosemite trips with visitors of all ages from around the world.