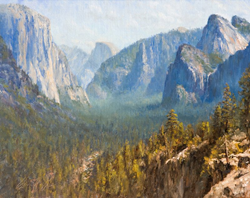 Yosemite National Park, CA (PRWEB) February 27, 2014
A late February storm system has begun to dump snow on the Sierra Nevada with new accumulations of at least two feet expected for the high country of Yosemite National Park. This is welcome news for a region that has received less than average precipitation this winter. This storm should last throughout the weekend and the snowfall will be a welcome boost to the park's popular waterfalls. These waterfalls will be the subject of several workshops offered by YExplore.
YExplore Yosemite Adventures is offering painting and photography workshops in Yosemite that focus on the waterfalls in Yosemite Valley and at Hetch Hetchy from May 2-5 that will explore the topic of how art shaped the creation of the national parks.
James McGrew, the workshop leader, will help artists discover relationships of plein air techniques/materials, composition, color, value, brushwork, aesthetics, and reference photography with implications for studio work. From beginner to professional, participants will view these famous painting subjects with a fresh perspective and deeper understanding as they learn about geology, flora, fauna, atmosphere and light relating to painting. Artists will translate these elements through their brush and create more life-like and interpretive works of art.
The photography sessions will explore aspects of composition, perspective, depth of field, motion, color, lighting, and natural history of subjects. They will discuss the techniques of wide angle photography, macro, and telephoto to isolate and simplify a subject. All the best landscape and nature photographers produce consistently great images because they not only know the technical and aesthetic aspects of their medium, but they also know their subject. Likewise, participants will discover the elements of both Hetch Hetchy and Yosemite Valleys that make them special from their geology, to the flora and fauna, and history. Photographers will be encouraged to apply newfound technical knowledge coupled with personal emotion/vision to create meaningful interpretations of both valleys.
About YExplore
Founded in 2006, YExplore Yosemite Adventures is the only Yosemite Tour Company offering custom guided experiences (Adventure Hikes, Half Dome Hikes, Multi Day Backpack Trips, Nature Walks, Birding Walks, Wildflower Walks, Snowshoe Hikes and Photography Workshops) 12 months a year. Their mission is to encourage travelers of all ages to get outside and make a connection with nature and wilderness through educational outdoor adventures that inspire personal growth while developing a deeper understanding of conservation and stewardship. YExplore is a socially responsible company that implements Leave No Trace principles on every outing to minimize their impact in nature and ensure that the ecology of the region will not be compromised. James McGrew is the leader of the Twin Valleys Workshops and has been leading trips in Yosemite for many many years.