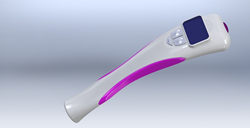 Yossi Biderman's team of scientists, doctors and engineers have developed a non-invasive skin cancer scanning device.
(PRWEB) April 18, 2014
Skin cancer, the most common form of the disease, affects one in five Americans. The best remedy for all types of skin cancer – including melanoma – is early detection, which is usually done by in a dermatologist's office.
People worried about suspicious moles or possible melanoma, however, may have to wait months for an appointment while countless others never get a skin cancer diagnosis at all. This is the motivation for Yossi Biderman, a Tel Aviv entrepreneur who has assembled a team to develop the first home-use skin cancer scanner.
SKIN SCAN 650H is a non-invasive, battery-powered skin cancer scanning device the size of an electric toothbrush. It uses light waves from an LED to analyze a mole in a matter of seconds, providing a quick and reliable skin cancer diagnosis. The prototype has been clinically tested, producing scans that are 90 percent accurate.
"It is not intended to be a medical device or take the place of an examination by a physician," explained Biderman. "There are two readings provided by SKIN SCAN 650H. One is 'benign' and the other recommends seeing a physician. A positive scan does not mean that a mole is malignant. It's just a recommendation that a more professional assessment is needed."
The development team, known as SCS (Skin Cancer Scanning) Ltd., consists of five men with varied backgrounds in medicine, science, electronics and engineering. Dr. Nir Nathansohn, MD, a dermatologist with 26 years of experience, provides the medical expertise.
"All of us have been motivated by personal tragedies of loved ones who failed to see physicians on time," said Biderman. "Those we lost, more often than not, ignored the warning signs until it was too late."
Although the skin cancer scanning device has yielded highly reliable data, Biderman and his team are looking to boost the tool's accuracy even further. The cost to produce a final version has been estimated at $150,000. An additional $50,000 is needed to run two clinical trials and the cost of initiating FDA regulatory approval is around $100,000.
That adds up to $300,000 and Biderman has launched an Indiegogo campaign to raise the necessary funds for this project. The Indiegogo page can be viewed at http://www.indiegogo.com/projects/skinscan-h-first-ever-scan-yourself-at-home-for-early-warning-of-skin-cancer/x/2605858.
Depending on their donation levels, contributors can receive discounted prototypes of the SKIN SCAN 650H and "scan packs" that are necessary to activate the scanner. Backers can also participate in the research phase of product development.
"By helping us collect data, we can learn more about our accuracy and improve it," said Biderman.
For additional information, visit http://www.indiegogo.com/projects/skinscan-h-first-ever-scan-yourself-at-home-for-early-warning-of-skin-cancer/x/2605858 or the SCS Ltd. website, http://www.scs-med.com. Biderman can be reached directly at ybiderman(at)scs-med(dot)com.