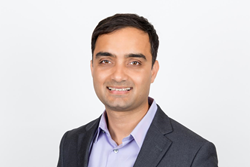 Given the rapid adoption of cloud computing by enterprises, management and optimization of cloud infrastructure represents a real challenge and a big market opportunity
(PRWEB) April 19, 2017
Yotascale Inc., a thought leader in the Infrastructure Performance Management domain, announced today the appointment of Imran Moin as the company's Chief Product Officer. Imran brings 15 years of Enterprise SaaS experience to the company and is a proven leader in the product management, marketing, business development and customer success functions. He will be responsible for overall Product Strategy and Go-to-Market at YotaScale.
"Imran's experience in scaling early stage startups, resulting from years of working with technology companies, makes him a perfect fit for YotaScale. His depth of product management expertise and business knowledge will be invaluable as we look to accelerate our Go-to-Market efforts," commented Asim Razzaq, Co-Founder and CEO of YotaScale.
"As I was looking for my next career move, I was very impressed by YotaScale's vision and approach in the Infrastructure Performance Management domain," said Imran Moin. "Given the rapid adoption of cloud computing by enterprises, management and optimization of cloud infrastructure represents a real challenge and a big market opportunity. YotaScale has assembled an amazing team of technology executives, investors and advisors. I look forward to working with this team to solve a critical pain point and build the next big enterprise company."
Imran was previously founding member and Senior Director of Product Management at Blue Jeans Network, a pre-IPO technology startup focused on the video meetings space. During his 6+ years of tenure there, he helped scale the company from a promising idea to a flourishing business, growing at a rapid rate. Prior to Blue Jeans, Imran held engineering positions at Google and Virtela (acquired by NTT). He holds an MS from University of Colorado and MBA from the Wharton School at the University of Pennsylvania.
ABOUT YOTASCALE
YotaScale is a thought leader in the Infrastructure Performance Management domain - leveraging machine learning to optimize cloud infrastructure for reliability, visibility and cost. Using proprietary machine learning algorithms to process millions of data signals, YotaScale provides contextually relevant, real-time anomaly detection and recommendations that can be acted upon immediately. Wall Street Journal recognized this growing pain point when they published this article on YotaScale. The company recently raised $3.6M funding from Pelion Venture Partners and Engineering Capital, as covered by Techcrunch.
For more information, please visit http://www.yotascale.com