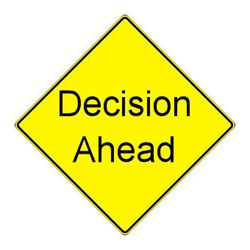 'If the past is important for making decisions, the future is paramount,' the article states.
Seattle, WA (PRWEB) February 05, 2014
Each day, people of all ages are faced with important decisions and choices that will affect their long term goals. These decisions are of the utmost importance; luckily, there are people who have studied self help and personal development for a lifetime and have vast experience. Bill Maynard is the author of the self help book "You Matter", a book dedicated to helping individuals reach their full potential. He recently released a blog post with insights concerning how to make decisions on a day to day basis. To view the post, click here.
The article begins with an analogy: life is like a maze with a labyrinth of doors. Each time a person walks through one, several doors close, and there is no going back. The impact of each decision cannot be understated, as emphasized by Professor Maynard.
Decisions are all about experience, Bill Maynard says. Even mistakes may serve to further qualify a person to make future choices because people learn from their mistakes. The article also discusses the fact that decisions require confidence. The final ingredient in short term decision making is ensuring that short term decisions align with long term goals. "If the past is important for making decisions, the future is paramount," the article states.
The article provides numerous helpful insights, and the author promises further analysis of this important topic in future posts.
About Bill Maynard:
Bill Maynard is in the business of changing lives. He earned his doctorate in education and business administration from the University of Washington. He was the CEO of Effectiveness Institute, a leading business and leadership development consulting company he founded years ago and teacher of "Leading and Living" at Washington State University. Over the last 15 years, He has been ranked #1 teacher nearly every year at the WSU College of Business. He also was the principal at Cleveland High School in Seattle, where TIME Magazine acknowledged him as an expert in defusing high conflict situations in inner-city schools. To learn more about Bill Maynard's new book, "You Matter," visit his website at http://imatter2me.com/.