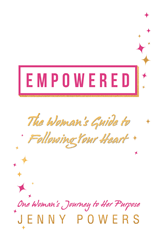 "Jenny's words touch every raw nerve and nibble at your heart's desire," a reviewer said. "I couldn't stop turning the page. Such a refreshing and awakening read."
NEW YORK (PRWEB) April 17, 2019
After taking a leap of faith by leaving a stable career to travel the world with no agenda in pursuit of her own passions and power, author Jenny Powers shares her book "Empowered: The Woman's Guide to Following Your Heart" to encourage women to stop, breathe, and reconnect to their true selves.
Gone are the days of wondering, "Am I enough?" In her book, Powers shares comforting truths and wisdom gleaned from her own journey to inspire readers to celebrate themselves the way they celebrate those around them. She offers guidance on embracing each chapter in life with a sense of freedom to feel and express our true and happiest selves.
"I am the author, but I am also very much the reader," Powers said. "I refer to my book daily to find the inspiration and guidance I need to welcome the beauty, the challenges and the lessons that we all experience on our journeys."
"Jenny's words touch every raw nerve and nibble at your heart's desire," a reviewer said. "I couldn't stop turning the page. Such a refreshing and awakening read."
In "Empowered: The Woman's Guide to Following Your Heart," women everywhere will be inspired to cherish their bodies, minds, hearts, and spirits through every moment of their unique journey.
"Empowered: The Woman's Guide to Following Your Heart"
By: Jenny Powers
ISBN: 978-1-9822-0254-5 (sc); 978-1-9822-0252-1 (hc); 978-1-9822-0253-8 (e)
Available at the Balboa Press Online Bookstore, Amazon and Barnes and Noble
About the Author
Jenny Powers is an author and a speaker who grew up in Medway, Massachusetts. She has a Bachelor of Arts in Economics from Williams College. She has worked as an actress, a director of sales and marketing, and an investment banker. She has spent much of her life traveling around the world, seeking to live the best life that she can live and fulfilling her passion for adventure, for new experiences and for following her heart. Empowered: The Woman's Guide To Following Your Heart is her first book. For more information, visit jennypowers.com.
Contact:
LAVIDGE – Phoenix
Kiersten Woglom
480-998-2600
kwoglom@lavidge.com
# # #